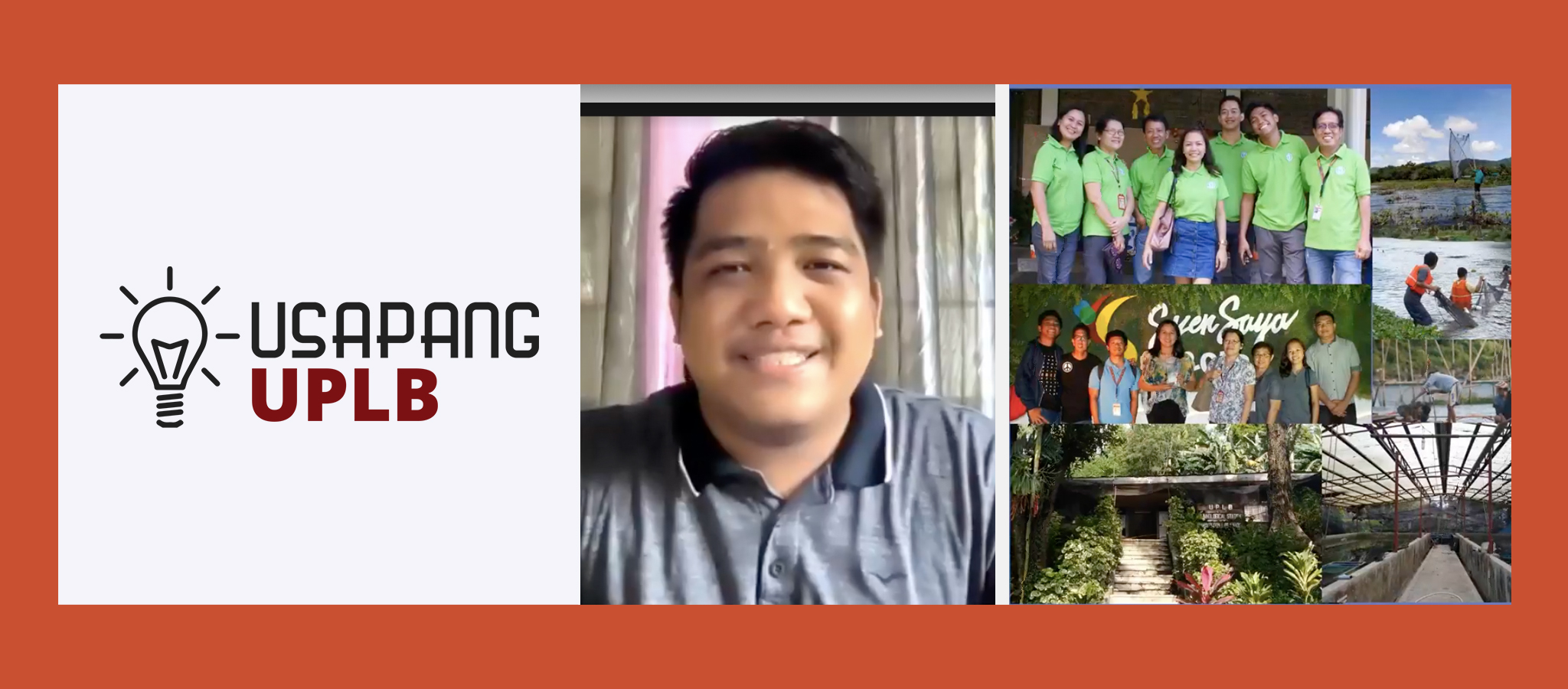 Usapang UPLB tackles DOST scholarships, rejuvenation of fish populations
Usapang UPLB guests discussed opportunities for aspiring science and engineering scholars at the Department of Science and Technology (DOST), and the on-going UPLB-led program to increase the population of Tawilis, an iconic fish species and delicacy from Taal Lake.
Scholarships under DOST-SEI
With the goal of improving the country's science literacy, the DOST-Science Education Institute (DOST-SEI) continues to provide assistance to individuals facing difficulties in pursuing masters and doctoral studies in science, technology, and engineering-related fields. Marco D. Melgar from the DOST-SEI's STEM Promotions Unit joined the program in one of its episodes in May 2021 to discuss their goals for science and technology education in the Philippines.
"Mahalaga na i-popularize natin ang science as a career option para sa mga kabataan," [It is important that we popularize science as a career option for the youth] said Melgar.
This ties in with the overall mission of developing the human capital of the country, particularly within the fields of math and science curricula, he added.
Melgar also discussed the importance of providing assistance to educators in the country to help improve the established education system and increase access to science education for future scientists and researchers.
DOST-SEI is also in charge of conducting research on the state of science and mathematics education as well as human resources in the country. This is done in the hopes of assisting those in charge of making policies at the administrative level.
Rejuvenation of Tawilis Populations
Dr. Ma. Vivian Camacho of the Institute of Biological Sciences, College of Arts and Sciences joined the program as project leader of the Fish Ark Project, which aims to revitalize the dwindling populations of the fish species, Tawilis in Taal Lake, and to apply their results to other bodies of water.
The Fish Ark project was established in July 2020. It was prompted by the phreatic explosions of Taal Volcano early last year, which affected the fish species' population.
Dr. Camacho also briefly discussed her work as the station manager of the UPLB Limnological Station based in Mayondon, Los Baños. The off-campus station is mandated to be a venue for the study of limnology and biology of aquatic organisms.
The goal of the station, according to Dr. Camacho, is to "develop strategies for the optimization and sustained production of aquatic resources."
Usapang UPLB is a segment of Galing UPLB, a university-based multi-platform program which is produced by the Department of Development Broadcasting and Telecommunication of the College of Development Communication, the Office of Public Relations, and the Office of Alumni Relations. Recently, the Office of the Vice Chancellor for Research and Extension also joined the team and handles the segment, Tuklas UPLB.
Galing UPLB airs live every Friday at 3 PM on Facebook, featuring news, current events, and note-worthy events and stories. All its episodes are available on Radyo DZLB's Facebook page.