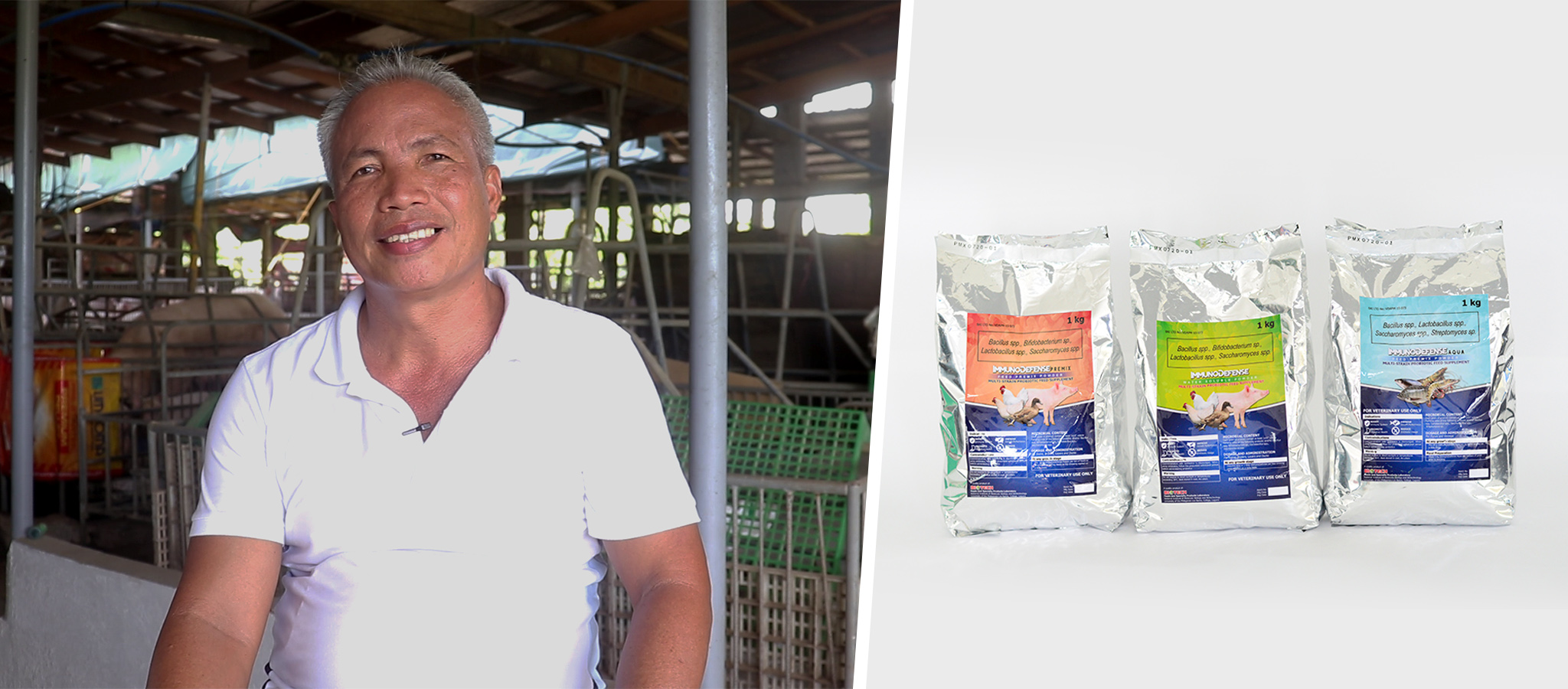 UPLB-BIOTECH technology enhances hog immunity and rids farms of stench
by Art John I. Agapito & Sophia M. Mercado
A microscopic, single-celled organism can enhance swine immunity from diseases and help eliminate the stench that swine-raising causes.
Yes! This group of good bacteria promises to save the day, as it has for some backyard swine raisers in the province of Batangas.
But not without the science done at the UPLB National Institute of Molecular Biology and Biotechnology (UPLB-BIOTECH) that allows the use of probiotics to develop ImmunoDefense.
ImmunoDefense, an animal feed probiotics technology, is aiding Batangas feed millers and swine farmers in battling the spiraling cost of feed production and air pollution.
Keeping swine livelihood economically and environmentally thriving
According to the Philippine Statistics Authority, the total swine inventory in the country increased from 9.56 million heads in March 2021 to 9.68 million heads on March 31 this year. Although the swine population in industrial farms expanded, backyard farms still dominated the industry at 70.3%, while the rest (29.7%) were commercial farms.
Antonio Alcaraz, a farmer-entrepreneur and production manager of Eight Knights Feed Mill Corp. in Taal, Batangas, has a 100-sow farm. He has been using ImmunoDefense for more than a year and even introduced the technology to other feed millers.
According to Alcaraz, they noticed an improvement in the pig's milk quality, as well as in its health and weight, now that they are using probiotics. "The best effect of the technology is perhaps the improvement in animal's immunity and disease resistance," he said.
When asked why they use ImmunoDefense, Mary Ann C. Enriquez, purchasing manager of Eight Knights Feed Mill Corporation, highlighted the product's low cost. "The best thing about ImmunoDefense is its price. The product is effective—our nutritionist can vouch for that—and affordable."
Enriquez said that increased income and improved swine quality could be attributed to this technology. "The product is very competitive and has a big potential. We can save a lot given that ImmunoDefense is more affordable than other probiotics in the market," she added.
De Castro, a farmer-entrepreneur, has benefited from using ImmunoDefense on his swine farm in Lemery, Batangas, since May 2021.
"I noticed a lot of changes in the swine. They seemed to grow faster, healthier, and contracted significantly fewer diseases," he said. With more than 70 sows on his backyard farm and 300-400 fatteners reared by other caretakers, De Castro has used ImmunoDefense as a preventative rather than curative measure against diseases, thus cutting the budget for antibiotics and increasing his income by 5-10%.
"When you have a farm of healthy swine, you can cut off costs for antibiotics and medicines. When they are healthier, you can sell them faster. Income is better," he explained.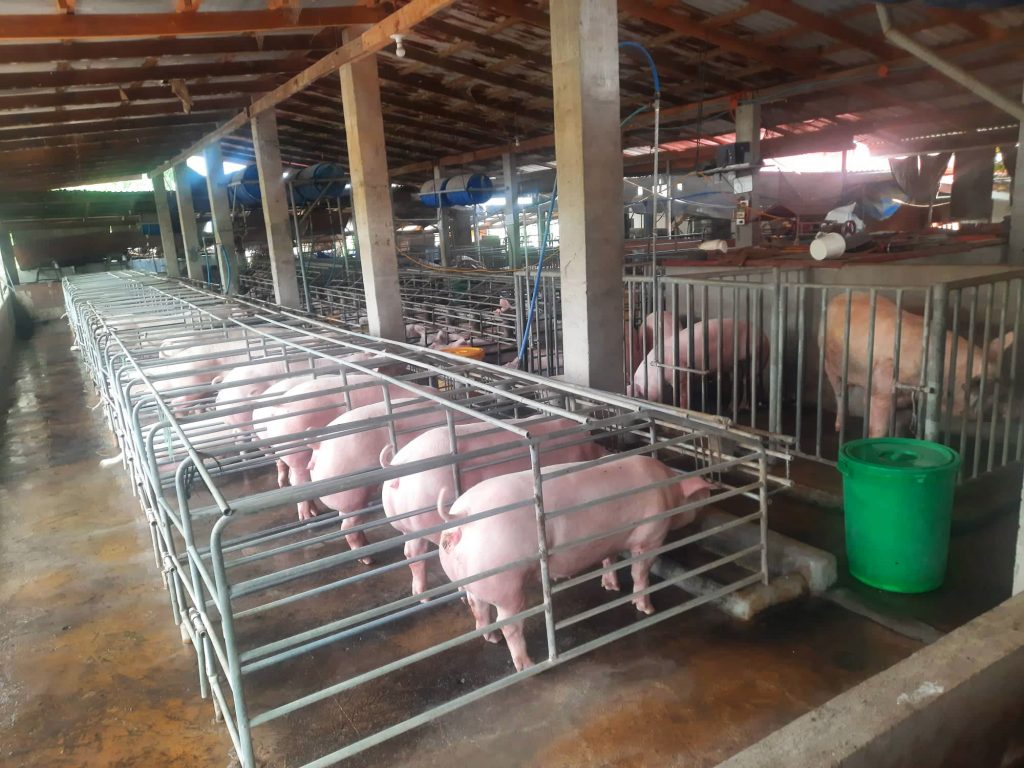 BIOTECH's ImmunoDefense has also significantly reduced piggery stench, allowing De Castro to operate the farm right behind his family home in Lemery. He also observed that steel bars on the roof of the piggery used to rust quickly. De Castro observed that with ImmunoDefense, the piggery roof no longer rusts quickly, and the stench is no longer discernible.
Developing and distributing probiotics feed technology
ImmunoDefense is one of the probiotics-based technologies of UPLB-BIOTECH. The technology is available for swine, poultry, brackish, and freshwater aquaculture for tilapia, bangus, and shrimp. Farmers may choose between its premix or water-soluble forms. BIOTECH's probiotics for animal feeds technology was developed in 1992 by then-BIOTECH researcher and now retired Dr. Laura J. Pham to address the animal farming industry's problems, mainly in preventing and controlling diseases. Nico G. Dumandan, BIOTECH researcher and co-developer of ImmunoDefense, said that probiotics are a safe alternative to animal antibiotics since the microorganisms used carry the Generally Recognized As Safe or GRAS status of the Food and Drug Administration.
The use of probiotics can help address challenges in the local animal industry, such as environmental pollution, the spread of diseases, and low productivity.
ImmunoDefense is manufactured in the country using locally available resources, according to Dumandan. He said it offers a viable option against antibiotics, improves feed efficiency and overall gut health, and provides immunity against diseases, increasing farm productivity and income.
UPLB-BIOTECH has established formal linkages with the government and private partners that can commercialize and distribute the products. BIOTECH has recently partnered with Beak and Snout Agri Supply, a startup company based in Batangas that supplies and distributes different animal nutrition and veterinary products to poultry, livestock farms, and feed millers. Delbert Coligado, a UPLB alumnus and the technical consultant of the company, said that they have already distributed ImmunoDefense to different areas in the country. "We have aggressively promoted this product, its name, and its manufacturer for more than a year. We were able to penetrate markets in North Luzon starting from Isabela, Ilocos Norte, Pangasinan, Tarlac. Around 22 tons have already been distributed in Batangas in the one and a half years of Beak and Snout Agri Supply operations. Now we are already in Mindoro, and we are promoting ImmunoDefense in Bicol, Cebu, Davao, and many parts of Mindanao," he added.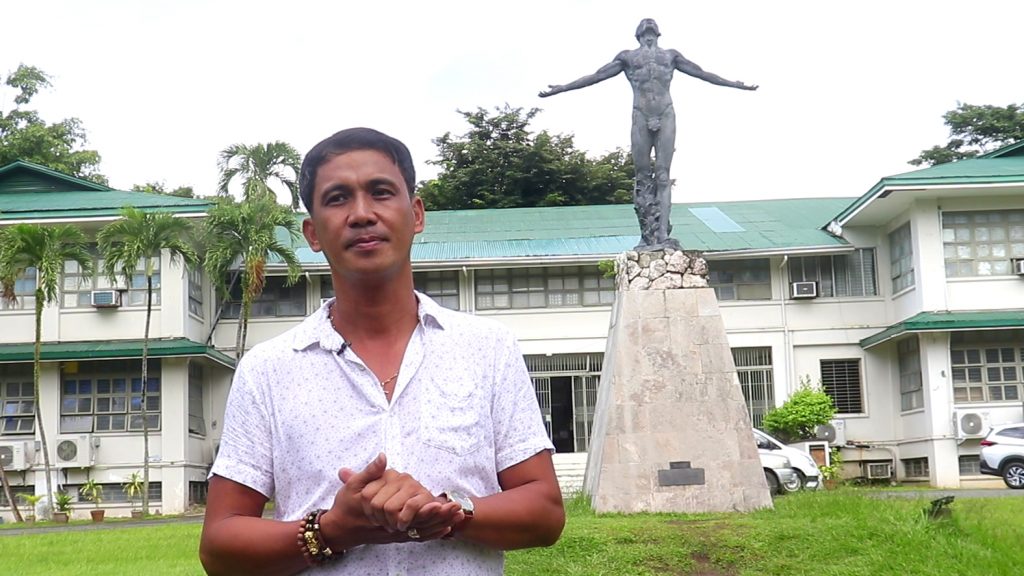 Coligado emphasized the importance of technology in swine rearing. "Technology and the animal farming industry go hand-in-hand. I believe all research—the brilliant minds of people—can truly help local common farmers. Through R&D and technology, we could develop efficient and effective products that can help the industry, especially our local swine farmers. By helping their small agribusiness, we are also giving their family a chance for a better future," he stated.
Aside from probiotics, UPLB-BIOTECH has an array of technologies in agriculture, forestry, food, environment, energy, and industry. In its four decades of conducting research, development, and extension, the Institute has produced more than 47 products, some of which are now ready for commercialization.
Through BIOTECH's breakthrough technologies in animal farming, swine farmers, and small business owners can survive and thrive in these challenging times.