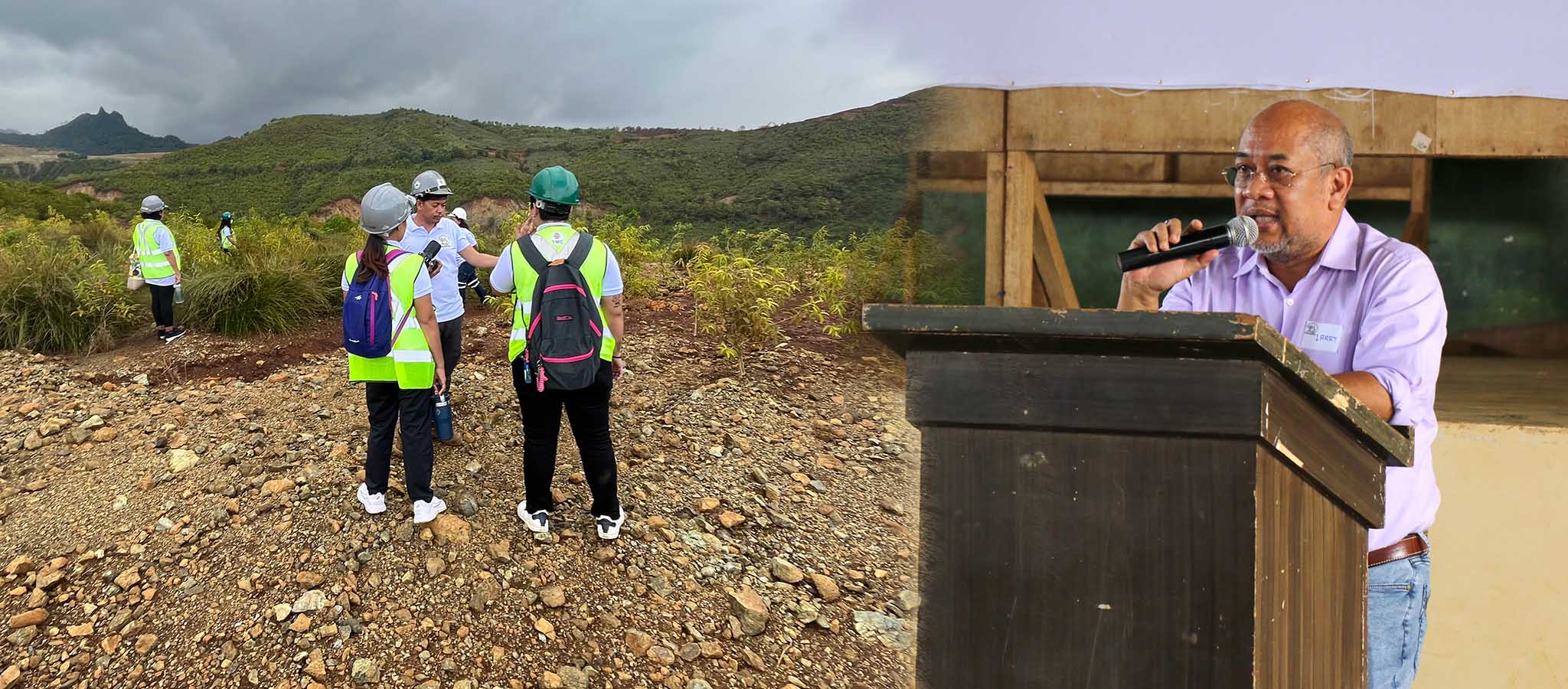 UPLB-BIOTECH biofertilizers make trees thrive in mined-out areas in Surigao
The Philippines ranks high among mineral-rich countries– third in gold, fourth in copper, and fifth in nickel deposits – according to a policy note of the Mining Industry Coordinating Council.
A report by the National Integrated Protected Areas System (NIPAS) puts the operating metallic mines of nickel deposits in the country at around 50 in 2017.
In Surigao del Norte alone, where UPLB-BIOTECH is implementing "Greening Nickel and Gold Mined-out Areas in Claver and Placer, Surigao, Mindanao (GMAP-Surigao)," there are four mining companies.
The mining industry has indeed been essential in the economic growth and development of the area, particularly in Claver, where mining companies, aside from providing local employment, provided critical infrastructures such as birthing facilities and health centers to its barangays. Claver attributed its rise from sixth to second-class municipality to the mining sector operating in the town.
Environmental damage caused by mining
"However, it is not without its repercussions. Mined-out areas often bear the scars of environmental degradation, affecting biodiversity, water bodies, and the quality of life for surrounding communities."
This is according to Engr. Larry M. Heradez, regional director of the Department of Environment and Natural Resources (DENR) Mines and Geoscience Bureau (MGB), in his keynote address at a stakeholders' forum, spearheaded by UPLB-BIOTECH to present the results of GMAP to concerned sectors.
In Brgy. Taganito, in the nickel-rich municipality of Claver, which is part of the Taganito Mining Corporation's (TMC) site, reddish soil excavated from mining operations has not sprouted any flora for years. TMC Forester Randol Frey Rosales said native plant species have become hard to propagate in the area.
In Barangay Magsaysay, Placer, the Manila Mining Corporation (MMC) reclaimed a coastal area with ground materials excavated from the company's past gold mining operations.
Although limited natural vegetation eventually emerged in the area, MMC's Environmental Department Head Vernie Reyes said that their rehabilitation efforts have not been encouraging, with only about a 5% survival rate of trees that they planted.
Fungi and bacteria for bioremediation
But wonder of wonders, scientists at the National Institute of Molecular Biology and Biotechnology (BIOTECH) of UPLB have proven that fungi and bacteria-based technologies and a bioremediation protocol can promote the growth of flora in infertile mine tailing areas in the municipalities of Claver and Placer, Surigao Del Norte.
Through GMAP, healthy, almost two-year-old native tree species, namely narra, lahi-lahi, and mangkono, are now growing in these mined-out areas.
Biofertilizers MYKOVAM®, MYKORICH®, and newly isolated fungi and nitrogen-fixing bacteria proved to be effective in allowing native tree species and other plants to thrive in heavy metal-laden soil.
Mycorrhiza is a fungus that has a beneficial relationship with plant roots. Studies have found that it plays a vital role in bioremediation, or using biological matter or living organisms to clean up or remove contaminants from a specific site.
MYKOVAM and MYKORICH biofertilizers use mycorrhiza to enhance plant roots, improving nutrient absorption and plant resilience. These technologies, as well as new bacterial isolates from the first GMAP project in Marinduque, conducted in 2015, were used in the GMAP-Surigao project.
GMAP-Surigao is an offshoot of the GMAP flagship program under the National Integrated Basic Research Agenda of the Department of Science and Technology-National Research Council of the Philippines (DOST-NRCP).
Success in Marinduque and Surigao
Since 2015, GMAP project proponent and technology developer Dr. Nelly S. Aggangan and her team have been refining the mycorrhizal technology and protocol to rehabilitate mined-out areas' based on the project in Barangay Capayang, Mogpog, Marinduque.
"Our activities mostly involved field trials to assess if the bioremediation technology and protocol applied in the copper mine is also effective in nickel, gold, iron, and other heavy metal mines," Dr. Aggangan said. She emphasized the importance of inoculating or coating seedling roots with mycorrhizal biofertilizers before transplanting to ensure that these can withstand plant stresses.
The success of UPLB-BIOTECH's mycorrhizal biofertilizers in Surigao were attested to by personnel of the mining companies. Forester Rosales said "Yung technology ng BIOTECH which is mycorrhiza ay nakakatulong sa halaman pamparami ng ugat. 'Pag maraming ugat, marami siyang makukuhang nutrients mula sa lupa na kailangan ng isang pananim. More roots, more nutrients absorbed, then higher survival. Isang benepisyo sa mined-out area ay high survivability, less mortality. Hindi na natin kailangan mag-replant. As observed naman, iba ang ugat ng may mycorrhiza sa walang mycorrhiza. BIOTECH's mycorrhizal technology helps in increasing plant roots."
"We're glad we are introducing endemic and hardwood species in our area. It's our first time using this technology because we normally apply inorganic fertilizer and compost. It is effective because in our mined-out areas, waste dump, which is an acidic waste dump—and thus, acidic ground—only supports about 5-10% surviving trees. After applying mycorrhizal fungi or microbes, we observed a more than 90% increase in the growth and survival of trees. Because of the acidic ground, normally mamamatay lang (the plant dies) during hot season because usually the soil pH ranges from 4-6 and is not favorable or conducive to plants," said MMC's Environmental Department Head Vernie Reyes.
Stakeholders support mycorrhizal technology for mined-out areas 
During the stakeholders' fora conducted for communities near the GMAP-Surigao project sites on Sept. 26 and 28, various sectors and community members expressed their support for the bioremediation initiative.
Heradez said, "Microbial technology offers a promising avenue for sustainable biological solutions in rehabilitating mined-out areas. Microorganisms possess unique capabilities that can assist in breaking down pollutants, stabilizing soil, restoring vegetation, and promoting ecosystem development. By harnessing the potential of these tiny organisms, we can reimagine and revitalize the once barren landscapes left behind by mining activities."
Ma. Riza C. Lopez, a faculty member at the Agusan del Sur State College of Agriculture and Technology, commended the project for taking on the challenging task of rehabilitating mined-out environments. She said that such initiatives must be prioritized by both government and academia and highlighted the importance of collaborative research opportunities that GMAP-Surigao offers.
With their sustained success stories from Marinduque and Surigao Del Norte, the research team at UPLB-BIOTECH hopes to expand their scope and encourage the government and mining industry to adopt the sustainable and locally developed technologies and protocol that are being scientifically proven through the GMAP project.