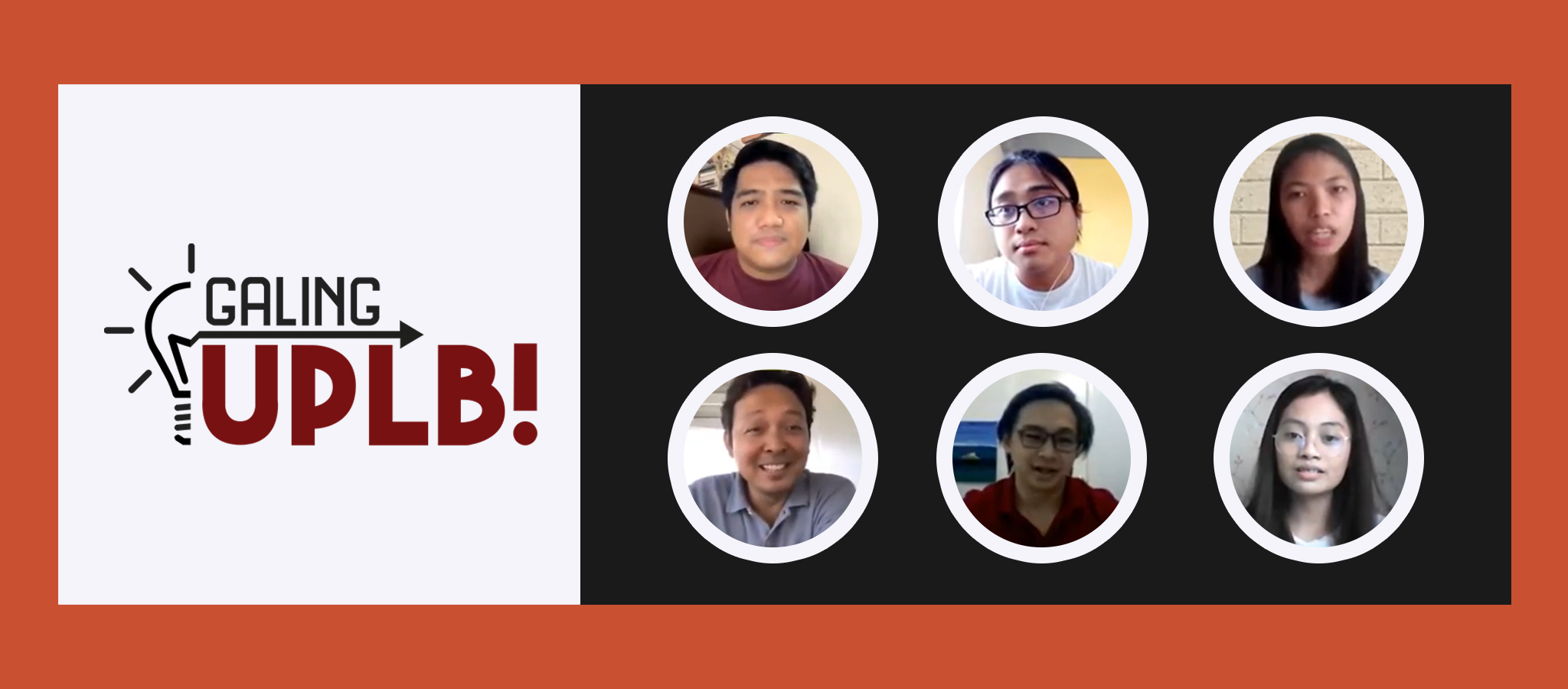 Student-developed app, COVID-19 infection rates, and physical education during the pandemic, highlighted on Galing UPLB
by Angelica Jayz A. Villar
For the month of April, the guests featured in Usapang UPLB imparted stories about using Information and Communications Technology (ICT) and digital mapping to address poverty, the current situation of the COVID-19 pandemic, and maintaining physical fitness and continuing education in the time of a pandemic.
Usapang UPLB is a segment of the program Galing UPLB, a UPLB-based multi-platform program produced by the Department of Development Broadcasting and Telecommunication-College of Development Communication (CDC), in partnership with the Office of Public Relations and the Office of Alumni Relations. The program airs via Facebook live every Friday at 3 p.m., with replays on Saturday morning via Royal Cable TV 6. Galing UPLB features news, current happenings, and note-worthy activities and compelling stories of its constituents and alumni.

Combating poverty with ICT
Students from the College of Forestry and Natural Resources, namely, Carl AK Santos, Gellene Toledo, Neslyn Faith Aclan, and Jade Alezandra Morales, shared their triumph after garnering the Excellence Award at the ASEAN Geospatial Challenge 2021 for their project proposal "GEO-AID."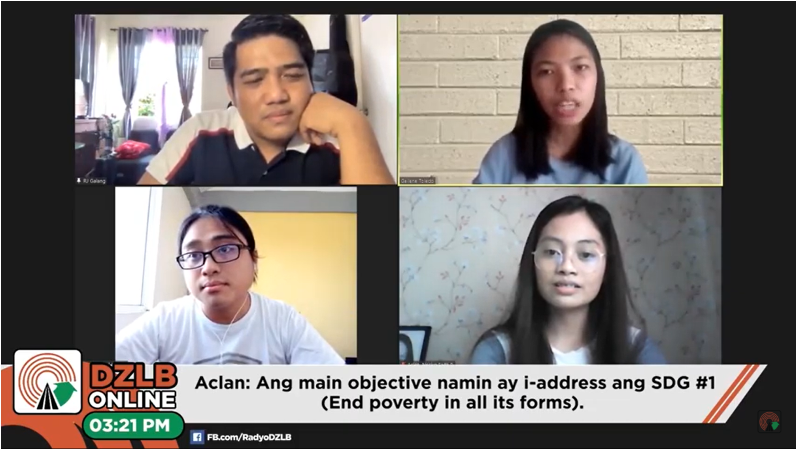 The team explained that GEO-AID combines two features: GEO, which uses data visualization through an interactive map system that locates schools and healthcare facilities in different regions in the country; and AID, which can start or show ongoing crowdfunding, petitions, and projects that aim to address poverty in all its forms, including education, health, and other basic needs.
During the interview, the team expressed their hopes that their project will be given enough funding for it to materialize and hopefully, become a mobile application that everyone can install and use.
Are we winning the fight?
After almost a year, Dr. Jomar F. Rabajante, a biomathematician and the dean of the UPLB Graduate School, came back on the program on its episode on April 23 to provide updates regarding the country's fight against the COVID-19 pandemic.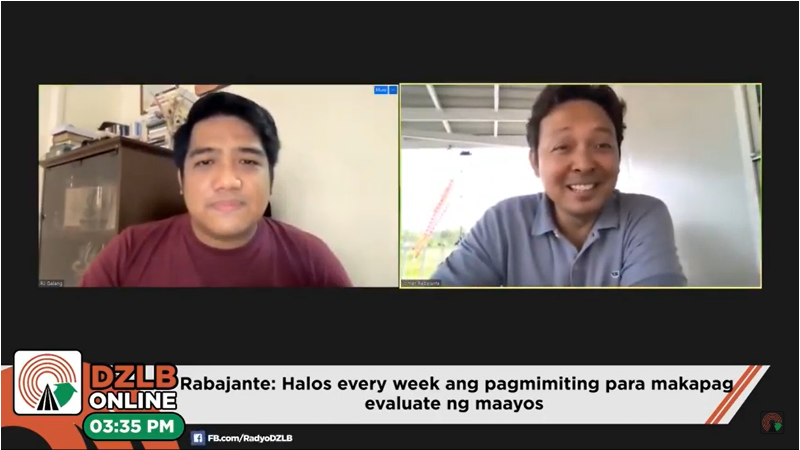 According to Dean Rabajante, the country is still far from significantly reducing its infection rate. Although some localities are able to achieve zero cases, it is still not sufficient to lead to a decline. Healthcare facilities are still overwhelmed by the number of patients that need to be hospitalized. While testing has improved compared to last year, it is faced with difficulties brought about by the surge of cases from March 2021. He said that the contact tracing scheme is not fully utilized, leading to many undetected cases and the rapid spread of the virus among families and in the workplace.

Aside from giving national updates, he also talked about the initiatives of the UPLB Graduate School in reaching out to its students and faculty during the crisis. He shared how they are employing a personalized approach to check in on their students and update them regarding their documents such as their scholarships. To provide guidance for their young or new faculty members, they assigned senior faculty members who can mentor them and help them adjust and learn about the good practices in teaching at the Graduate School.
Mindfulness in movement
For its final episode for the month of April, Usapang UPLB invited Percival Henry Balite, a faculty member at the Department of Human Kinetics (DHK) and the coach of the UPLB Football and Futsal Varsity. Sir Percy, as he is more commonly known among his colleagues and students, discussed how the DHK is coping with the challenges of teaching amidst the pandemic.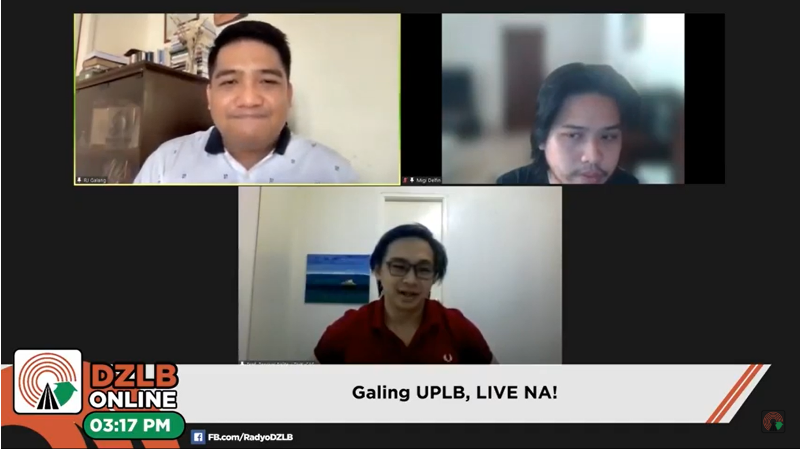 With the rapid rise in the number of cases, all physical meetings including training for the varsity teams had to be put on hold and classes had to be conducted online. This drove DHK to make course adjustments to ensure that their students will still learn and benefit from their classes despite the online set-up.
"The classes were well-curated and remote-setup-ready," said Balite.
DHK also followed university guidelines and did not give failing marks, opting instead to give deferred grades which the concerned student can "complete" within a year for their final grade.
He also shared how the football coaches and players of UPLB retained and strengthened their bond via Zoom calls and synchronous training and catch-up sessions.
Aside from fulfilling his responsibilities as a coach and a teacher, Balite also talked about his participation in community initiatives during the pandemic such as in Oplan Kawingan, a relief operation for stranded UPLB students. At the end of the interview, he emphasized the importance of being mindful about one's physical health especially with the current health crisis.
All episodes of Galing UPLB are available on Radyo DZLB's Facebook page.