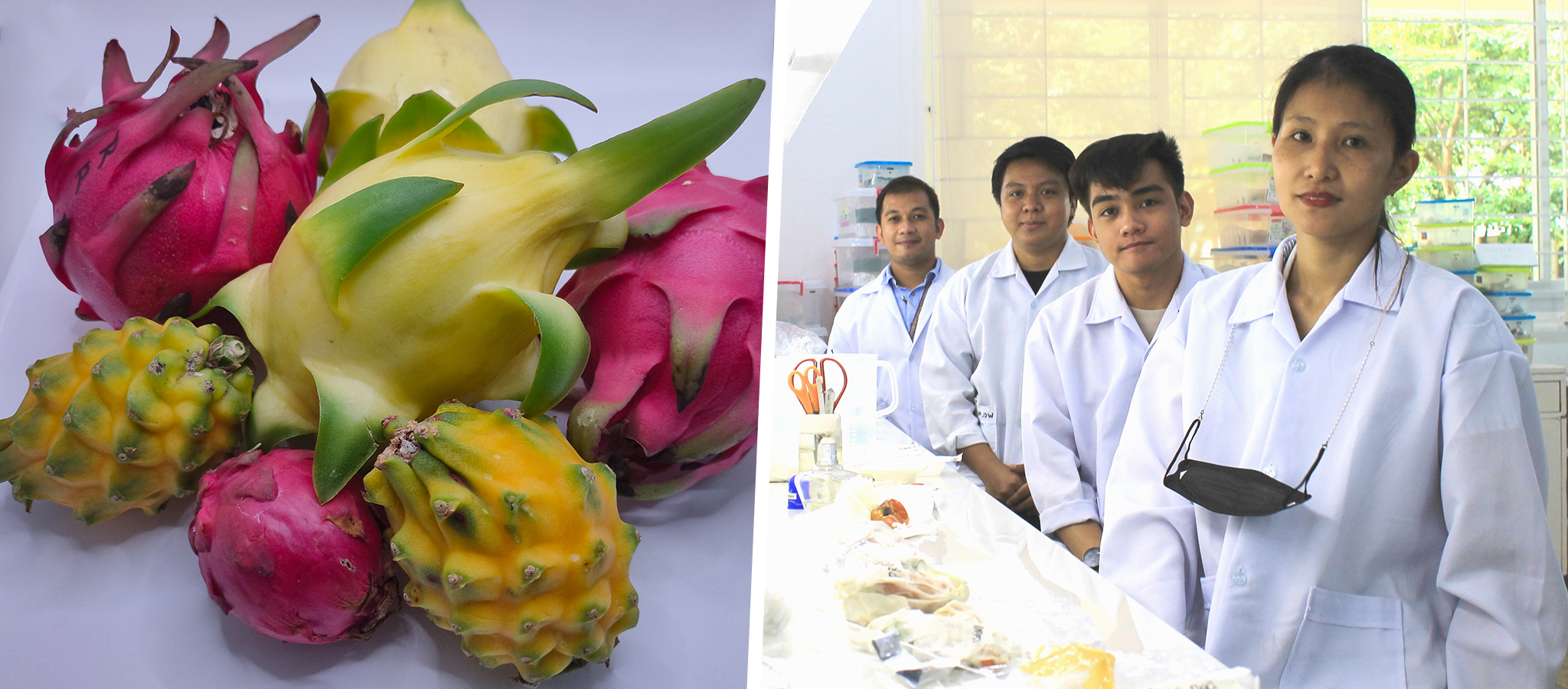 Dragon fruits may look like mythical objects straight out of a video game to the uninitiated, and indeed, it looks otherworldly. But the fruit, strange as it looks, has increasingly become important in the Philippine fruit industry.
Not in the league of mangoes and bananas just yet, but dragon fruit production and popularity have edged up in the past years.
From only 182 ha in 2012, the total area planted to dragon fruit in the Philippines rose to 450 ha in 2018, and to 1,200 ha in 2021.
As of 2021, the Ilocos Region remained the biggest producer of dragon fruit in the country with more than 500 mt produced in a year.
Due to the growing demand for this high-priced fruit, which usually sells at PhP120-150/kg, it has been touted as "the new money crop" by the Bureau of Plant Industry.
A three-year old dragon fruit farm can produce 5-6 tons/ha and earn PhP 720, 000 in the local market alone.
But behind these bright prospects, challenges threaten the dragon fruit industry such as the fruit's short storage life, seasonal flowering and unstable fruit supply, and pests and disease infestation.
Safeguarding treasures
Because it is a relatively new cash crop, not much is known about growing it. What is evident are its potentials and the need to safeguard the industry.
Enter the dragon fruits' allies in the country – researchers at the UPLB Institute of Plant Breeding (IPB).
Headed by Dr. Mark Angelo Balendres, the Dragon Fruit Research Group under the IPB Plant Pathology Laboratory has pushed the frontiers of science for this tropical fruit.
This research initiative, funded by the Bureau of Agricultural Research of the Department of Agriculture, has tapped knowledge already developed from growing dragon fruit and consolidated the best practices into a production guide.
The comprehensive guide covers tips for selecting and preparing the land, selecting planting materials, irrigating, applying fertilizer, pruning and harvesting, and lighting for off-season production.
Knowing that dragon fruit farmers can take a serious blow if their crops become affected by plant diseases, Dr. Balendres's team also took a proactive stance in identifying and managing dragon fruit diseases to prevent yield decline and low fruit quality.
They have expanded knowledge about dragon fruit diseases in the country, and in some cases, were able to identify and study new pathogens that have caused these diseases.
They were also able to find safer alternatives for managing infection in plants, such as using bioactives and bacteria with natural antifungal properties, or cleaning planting materials to make plants less susceptible to diseases.
The team is working on publishing a book, a handbook, and a laboratory protocol related to dragon fruit disease diagnosis, all of which they aim to release in 2022.
Allies in dragon fruit production
The IPB Dragon Fruit Research Group, composed of Dr. Balendres and fellow researchers John Darby Taguiam, Edzel Evallo, and Jennelyn Bengoa, worked to produce scientific papers on their findings and publish their results in scientific journals.
These findings and methods have been incorporated in a production guide and are disseminated through workshops and seminars and by partnering with growers' associations, agriculture schools and state universities, and government agencies.
According to Dr. Balendres, evidence-based awareness is crucial to effectively manage plant diseases so that growers can make informed and sustainable decisions and actions.
"Without sustainable control measures, diseases undermine the benefits of growing dragon fruits and threaten the hope of being the country that produces quality and healthy dragon fruits," Dr. Balendres said, as he emphasized the role of science in this growing industry.
After discovering that some dragon fruit plants are displaying disease resistance, Dr. Balendres's team is determined that they will be able to develop dragon fruit varieties with such a trait.
They are also looking into other areas of research to further improve the country's position in the dragon fruit market. The project team's hope is for the Philippines to become a top producer of quality dragon fruits.
"We can explore other non-conventional ways of developing new varieties with enhanced nutrition and yield qualities. There are also diseases that can affect the quality of fruits during storage and marketing. It is important that we look into the post-harvest diseases as they may affect the marketability of fruits," Dr. Balendres explained.
With the wonders of science that seek to make this otherworldly looking fruit become more common in the market, a flourishing future for dragon fruits will soon be a reality.