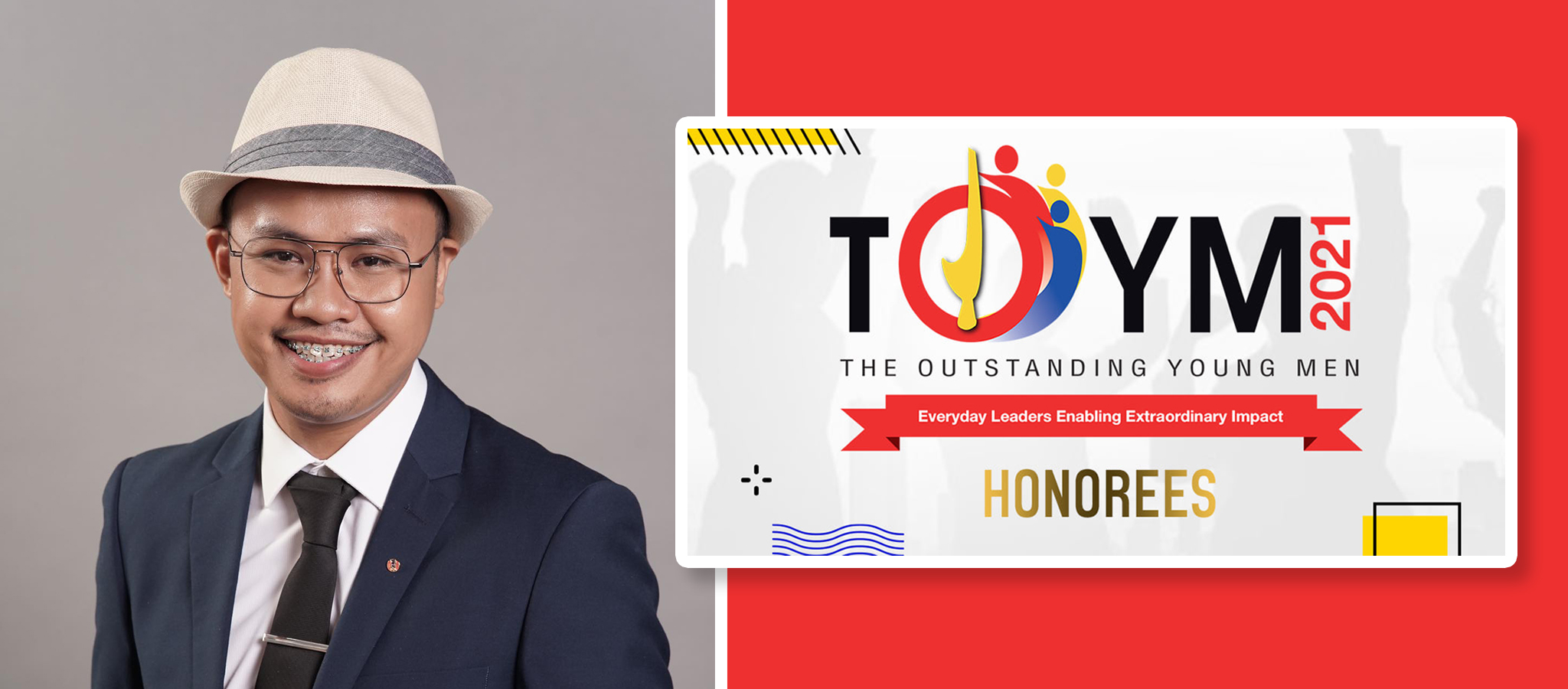 Looking back and looking further for the extraordinary
"Where do you see yourself in 10 years?"
We have been asked this question at least once in our lives. Most of us answered on a whim and without much thought.
In 2003, Ariestelo Asilo was asked this same question by his professor. He answered, "I would have a company of my own." Ten years later, he founded his very first enterprise called ThinnkFarm (formerly known as MinndMap).
Nine years after that, he was recognized by the Junior Chamber International Philippines (JCI) as one of The Outstanding Young Men (TOYM) of 2021 for Social Entrepreneurship.
The TOYM award is given to Filipinos from 18 to 40 years old who have made significant contributions to their field and served the community selflessly. JCI Philippines has been organizing the program annually for 62 years.
How he went from dreaming of owning a company to being a successful "nutripreneur" was not an easy journey, but definitely an inspiring one.
Enabling the Extraordinary Impact
The theme for the event for TOYM 2021 was "Everyday Leaders Enabling Extraordinary Impact" and Aries felt like he is quite short of the "extraordinary impact." Because of this, he declined the nomination of JCI Lipa twice. But on the third time, encouraged by the strong belief of his nominators, he decided to self-reflect and look back on his life for the past years.
In 2007, he founded the Peace Corps Scholars and Alumni Association (PSAA) under the Peace Corps Alumni Foundation for Philippine Development. PSAA conducts mentorship and extracurricular forums for scholars and alumni all throughout the country.
As one of its alumni, he also co-founded the Bauan Technical High School Alumni Association (BTHSAA) in 2010 by writing its constitution and by-laws. There are currently 15,000 bonafide students and alumni working together with BTHSAA in conducting community service such as disaster relief drives for those affected by COVID-19 and the Taal Volcano eruption.
Three days after Super Typhoon Yolanda, he co-organized a 120,000 meal packing event for Eastern Visayas victims. He also worked with Rise Against Hunger (formerly known as Stop Hunger Now) which mobilized more than 500 volunteers.
In 2013, his first enterprise, ThinnkFarm, provided business development services to farmers and the youth. One of their most notable projects was a farm-to-market road project for Lobo, Batangas which he co-wrote as a proponent. The road has helped 9,000 people bring their agricultural produce to the market and saved people in the area from severe flooding. Funded by the World Bank through the Philippine Rural Development Project for USD 2.0 million the road project is set to be extended to other barangays on its second phase.
By the year 2015, he had co-founded a small accounting firm that aims to help small- and medium-sized enterprises (SME) and connect farmers to more companies that could serve as their market.
In 2018, he met business partners which led him to start Varacco, Inc. and co-found Circa 1740 Coffee and Timplado. They provided livelihood to men, women, youth, and PWDs, especially during the pandemic. Varacco, Inc. is now helping 400 coffee farmers in Cavite and Mindanao.
With all of these, Aries finally believes that he indeed enables extraordinary impact not only in his hometown, Batangas, but in the Philippines.
Looking back further
Aries' past works and accomplishments are not the only things that contributed to what he is now.
Looking back further in his life, he realized that being a "nutripreneur" has been in the works since he was 6 years old. Along with his mother and grandmother, he sold sweepstakes tickets until he was 12 years old. By the time he finished high school, he had already tutored elementary students.
His college life as a BS Nutrition student in UPLB was rough. With only Php 1,000 per month, he worked as a tutor, sold various items, and performed in theater productions to augment his allowance from home.
He joined several school organizations to meet friends and get into networks he knew would help him learn. This is how Upsilon Sigma Phi became very influential in his professional life.
In UPLB, he learned how to socialize and build relationships with different people. Today he continues to benefit from and help other people through his networking skills. His former professors and classmates are now partners, clients, and mentors.
"People are a crucial part of entrepreneurship," Aries said. "It is those 'strangers,' the non-relatives who have become my first clients and believers of my vision. Thank you to all the UPLB network for making me reach where I am now!" he said.
All Aries wanted was to provide a good and comfortable life for his family. This became his motivation for pursuing his dream of being an entrepreneur despite the risks that came with it. After all, it is the risks that keep him on his toes everyday.
Today, he is a "nutripreneur" whose goal is to give to the community. His profession includes "focusing on our health and in the art of giving," Aries said.
For him, those who want to become an entrepreneur should start with themselves and their family.
Aries' advice for those who dream of being an entrepreneur is to "be ready for heartaches, pains, and losses. One must learn how to roll with the punches. One must dream with a clear vision and mission. Lastly, one must stay close to God for strength and humility."
Looking back and looking further, Aries found the extraordinary within him and created a lifelong impact on the people he helped.