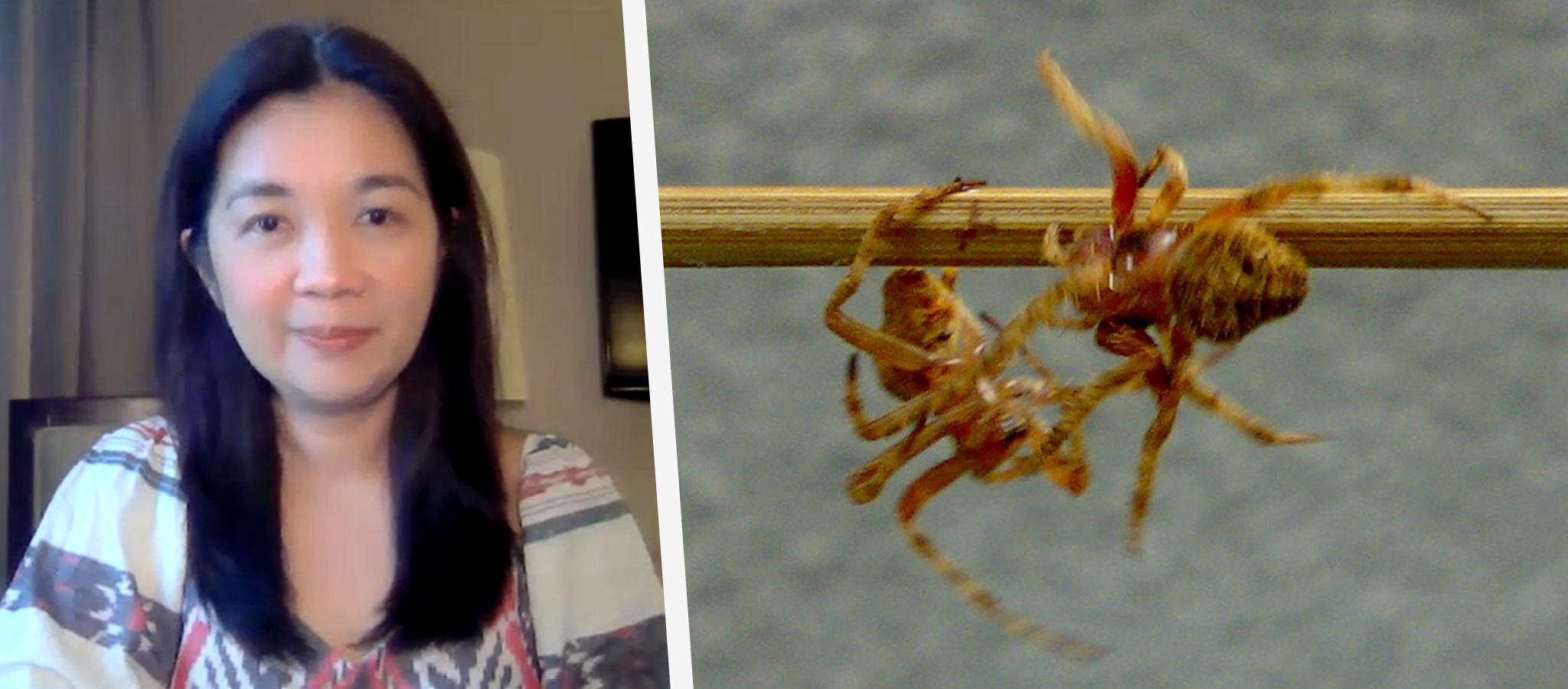 Global news database reveals Filipinos' unique relationship with spiders
Spiders are only occasionally featured on the news, but the pattern in which they appear is interestingly distinct in the Philippines. This is the finding of Dr. Aimee Lynn B. Dupo, a professor at the Institute of Biological Sciences. She also currently serves as the UP Faculty Regent.
Dr. Dupo's research finding is one of those that came out of the international effort to create a database of online news articles about spiders and spider bites. She is onboard the project as the Philippines's representative spider expert. Her extensive research on spiders and other interests has earned her the title of UP Scientist III, an acknowledgement of her research productivity from UP.
She said that the database project took more than a year to complete in the pandemic and was the joint effort of more than 60 spider experts from all over the world who were tapped to mine online data of spiders on the news in their own respective countries.
While accidents and hospitalizations are commonly associated with spiders in other countries, Dr. Dupo said that most of the news she was able to gather from the Philippines often depict spiders differently.
"Very distinct yung mga news from the Philippines. Kasi much of the human and spider encounters in the Philippines, very minimally refer to venom or invenomization or yung nakakagat tapos naoospital," she said.
She adds, "Most of the news from the Philippines relate to either the pet trade, or in the industry, yung mga nagpapalaro tayo ng mga gagamba, and apparently this was something very unique to the country."She said that this depiction of spiders in Philippine media reveals that Filipinos have a distinct appreciation for spiders, despite also being afraid and having the impression that all spiders are venomous.
Dr. Dupo said that this unique aspect of the Filipino culture points toward unexplored research areas about trading, betting, and capturing spiders in the Philippines, and can also have implications on the local spider population and its domino effect on other species such as mosquitoes. The extent of the spider pet trade can also reveal new information about the exotic species that have been brought to the country.
She noted that spiders have long been a part of Filipino culture. She cited the Itneg in the province of Abra who have embroideries of spiders and have established encounters with spiders in the wild. Children who have also engaged in spider fighting can also take these encounters as their first exposure to natural history.
"They see the behavior of predator-prey interaction, they see the behavior of cannibalism between species, paano sila nagiging territorial, so those are their first steps in science and natural history," she said.
While many Filipinos are still misinformed about these eight-legged arthropods, it remains that Filipinos have displayed a greater appreciation of spiders compared to other countries based on the global media database.
To those who may be afraid or intimidated by spiders, Dr. Dupo has this to say: "Siguro lagi naman nating sinasabi that we are just part and parcel of a larger ecosystem, so spiders and humans are part of it. [Spiders] also play a role in terms of being control checks and as ecologists we also espouse the belief that everything is connected to everything else and while we cannot see their benefits now, it doesn't mean that they are less important in our lives."