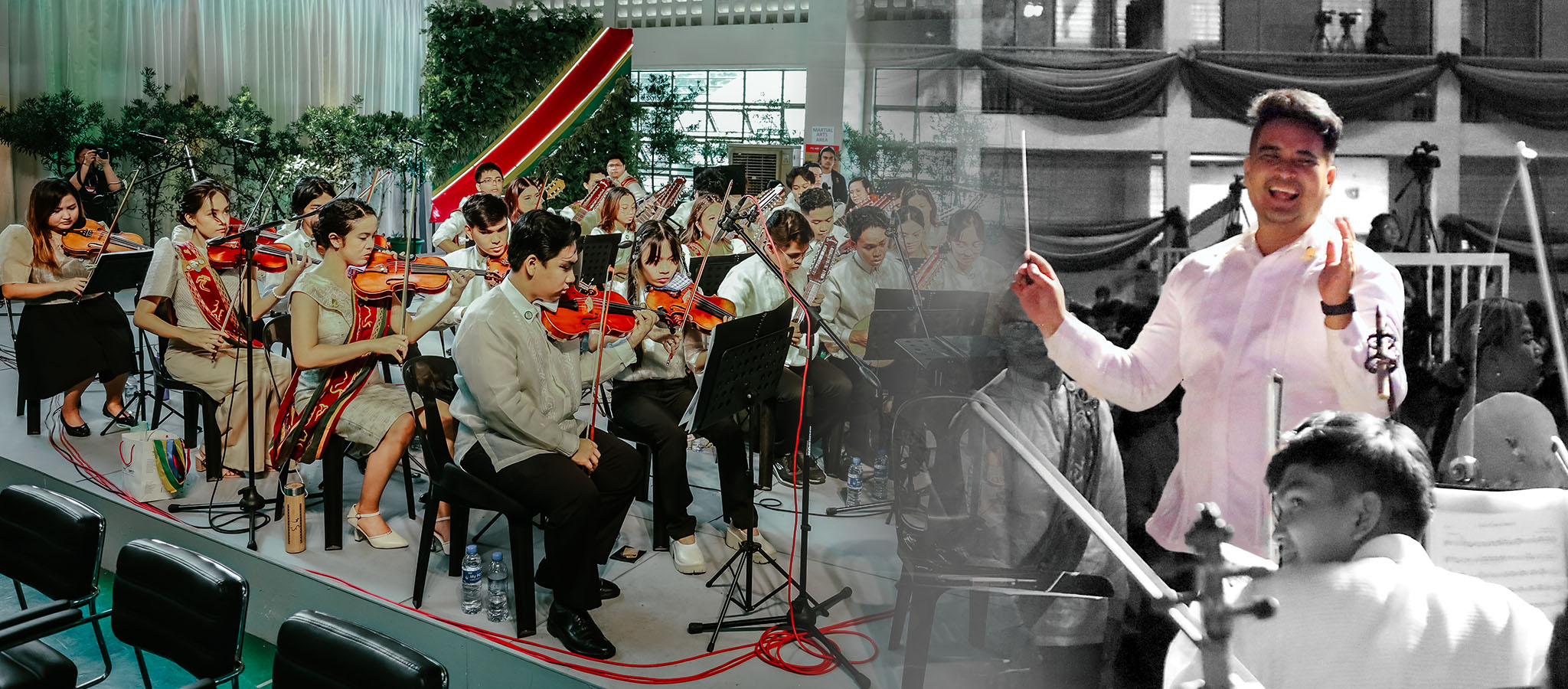 For Harmonya, 'tuloy ang musika!'
by Josephine M. Bo and Kyle Ramiel Dalangin
Live music by Harmonya: The String Ensemble of UPLB has brought pomp and grandeur to the UPLB commencement exercises since 2009. From then on, Harmonya music became part of the commencement tradition people looked forward to and enjoyed.
It became a treat watching and listening to the members of the group, themselves garbed in shades and hues of beige Filipiniana so as not to call attention from the original stars of the show (the graduates), as they adroitly teased and coaxed melodious music from violins, guitars, bandurias, cellos, percussion, and other instruments..
Harmonya became an essential part of the UPLB commencement tradition. When restrictions due to the COVID-19 pandemic were implemented, its music still had to be part of the online commencement program, albeit recorded individually and edited into one production.
But performing live was different. "Even though we were recording alongside the music of other virtual musicians, it felt so empty and alone. We had this longing for live music, wherein we can freely communicate with one another during performances," Musical Director Darren Vega said.
After years of restrictions, Harmonya finally had the chance to come back and perform at an event again, the latest being at UPLB's 51st Commencement Exercises. They prepared for it for a month, although Vega made sure he did not over-rehearse the musicians and focused instead on mentally preparing them.
"This one I would call a marathon performance. In short, marathon athletes don't run the course with their whole strength at first. They might stroll a bit or walk freely. But the key is to know the whole track and its obstacles. So, as long as the athlete would go around the track for a month, he would already be familiar with the whole track and where to exert most of his energy. It is mostly a mental preparation, and the body should follow," he explained.
Apart from the Lupang Hinirang, Processional March, and UP Naming Mahal, Harmonya played the Aida Grand March, Pomp and Circumstance, and Graduation March in A Minor. They ended the ceremony with Isang Daan, a composition by Harmonya founder Marie Angelica Dayao.
The music they performed at the commencement program gained positive reviews from the UPLB community, but they are not one to rest on the accolades. Vega said that the group looks forward to mastering skills for other genres, such as classical music.
They also want to promote string ensemble as it is "affordable and widely available, easy to learn, and is flexible to adapt to most music genres." Inspiring cultural organizations is another of the group's objectives.
Playing in the field of music is tough, and during such times, Vega calls to mind a quote from Pablo Casals, a renowned cellist who was once asked why he still played even at 90 years of age. Casals was said to have answered, "I think I am making progress. I think I am still improving."
For Vega, music is a love affair that lasts a lifetime. "Whatever your age or musical background, I highly encourage you never to give up your love for music. Learning music never stops, loving music never ends. Always find time to fuel your passion and get yourself back in your music. Tuloy ang musika!"