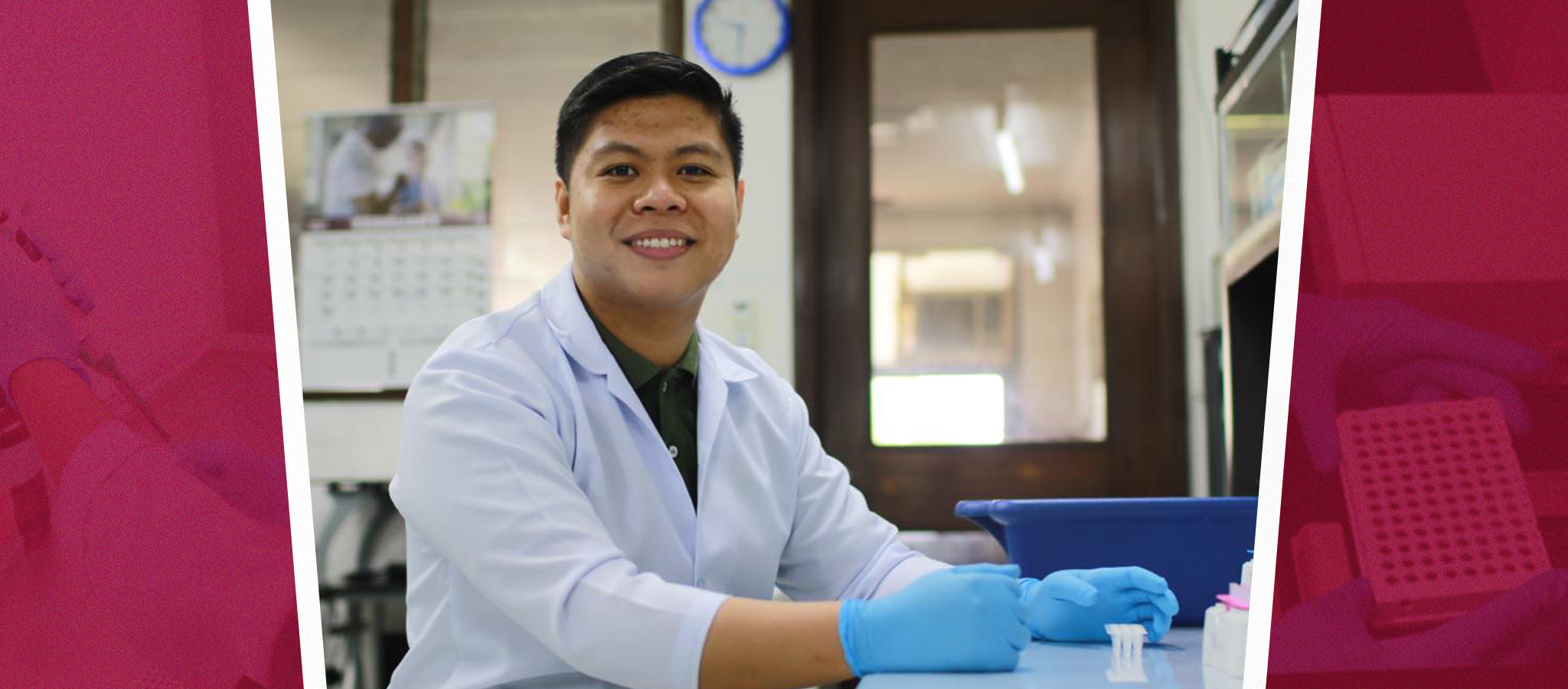 Darlon Lantican, NAST Outstanding Young Researcher on the rise
by Jaia Gabrielle L. Lapiz
Darlon V. Lantican, a junior researcher from the Institute of Plant Breeding (IPB), College of Agriculture and Food Science, joins the most recent roster of the National Academy of Science and Technology (NAST) Outstanding Young Scientists, one of the most coveted distinctions in the scientific community.
He has contributed a significant amount of research towards improving Philippine agriculture through plant genetics and molecular breeding. His most renowned research is on making genetic markers for coconut that could potentially change coconut production.
He will officially receive the award on July 14 at a virtual awarding ceremony during NAST's 44th Annual Scientific Meeting.
Significant contributions
Darlon V. Lantican is an agricultural scientist specializing in plant genetics and molecular breeding. He is among the first graduates of the BS Agricultural Biotechnology (BS ABT) program of UPLB, where he also finished his master's degree in Molecular Biology and Biotechnology, with a minor in Plant Breeding.
Trained by molecular biology and genomics experts at the Boyce Thompson Institute of Plant Research in Cornell University in New York, USA and The World Vegetable Center in Taiwan, Lantican is a pioneering bioinformatics practitioner in UPLB and is one of the very few in the country.
He developed the pioneer whole genome sequence assembly of dwarf coconut and its web-based database pre-installed with breeding tools. Without the genome, dwarf coconut research will be a "research in the dark," and mapping coconut genes and developing DNA markers for various applications will be costly. The markers developed from his research are now used to validate the success of different hybridization programs in line with the national coconut replanting agenda.
He also leads the most comprehensive genome-wide analysis of mango Resistance Gene Analogs (RGAs), which are candidate resistance genes against insect pests and disease and provides a DNA marker resource to fast-track resistance breeding programs. This will help re-position the country at the top of the global mango market.
His expertise is instrumental in identifying and characterizing genome-wide DNA variations Carabao, Huani, and Paho Philippine mango species, discovering RGAs and DNA marker development in durian, and isolating and characterization of CEL1 enzyme in tomato.
Aside from analyzing Philippine crops, Lantican also studies the molecular genetics and genomic analysis of pests and pathogens. He has researched on the whole genome assembly and annotation of the Philippine isolates of Erwinia mallotivora, a bacteria causing crown rot in papaya, and the development of a species-specific DNA marker to rapidly identify the outbreak species of 'cocolisap' in coconut plantations.
Currently, Lantican leads a project to address the threats of banana bunchy top virus disease in local banana production through modern biotechnology tools, such as genomics, transcriptomics, and new breeding technologies. He is also facilitating the DNA marker-assisted selection program of IPB in corn to develop varieties resistant to downy mildew disease.
He has published 11 scientific papers in his field, three garnering prestigious awards like the 2020 Elvira O. Tan Outstanding Published Paper in Agriculture from DOST-PCAARRD and the NAST 2020 and 2021 Outstanding Scientific Paper. His poster and paper presentations have also garnered 11 awards in national scientific conferences like the NAST Annual Scientific Meeting, the Philippine Society of Biochemistry and Molecular Biology Annual Convention, and the Federation of Plant Science Associations of the Philippines, Inc. Scientific Conference.
Prestigious national institutions have lauded his scientific contributions. He won 2nd place in the 2020 NAST Talent Search for Young Scientist, was the 2021 UPLB Outstanding Researcher (Junior REPS Category), 2021 CAFS Outstanding Researcher (Junior REPS Category), the 2020 IPB Outstanding Personnel Awardee (Junior Researcher Category), and the 2017 IPB Outstanding Junior Researcher.
The secret to becoming a lauded Junior Researcher
Lantican believes in the phrase, "Find what you love, and you'll never work a day in your life." He sees his work not as a required chore but more of an interesting hobby. He finds satisfaction in generating new knowledge as a researcher. He said he does not like being stuck inside a box but likes to observe recent scientific trends worldwide and analyze how the Philippines can be at par with them. He recognizes that there is still much to learn in genomics and molecular breeding, and he compares himself to a sponge that absorbs all the new information.
Lantican considers his parents to be his role models. At a young age, he was already exposed to the agriculture industry, being raised in a family of agriculturists, with his dad being a plant pathologist and his mother an extension worker. He took up BS ABT, majored in crop biotechnology at UPLB and graduated with Latin honors. He then started working in IPB as a research assistant soon after.
Why IPB?
There are many opportunities for an accomplished researcher like Lantican, but he chooses to work for IPB. Two things he likes about IPB are the institute's culture of mentorship and equality. According to him, "IPB needs junior researchers, and IPB is needed by the people." He sees himself fulfilling his potential as a full-time genetics and biotechnology researcher at IPB, where he can serve the people. In 2022, the last doctorate breeder in IPB retired, and there is more pressure for the Institute to harness breeders that can keep up with the international standards.
Vision for Philippine Agriculture
Lantican hopes to see Philippine plant breeding aligned with international breeding programs. He envisions a country that harnesses molecular breeding techniques and can be comparable with international research centers. With its natural resources, the Philippines is a sleeping giant for vigorous breeding materials. Lantican hopes to awaken the giant by giving it the tools, facilities, and technology to work with.
Advice to young researchers
More than being hungry, Lantican urges young researchers to starve for new knowledge: to yearn for it and search for it with an unquenchable thirst. He acknowledges that knowing one's limitations is an important start, and from there, they can look for trends where research is needed. He encourages his colleagues not to settle for what has already been founded but to think outside the box. He doesn't consider himself the best young researcher in the university but acknowledges that others are as outstanding as he is. He said that UPLB researchers are at the forefront of agriculture development in the country, giving them a heavy responsibility to uplift Philippine agriculture.