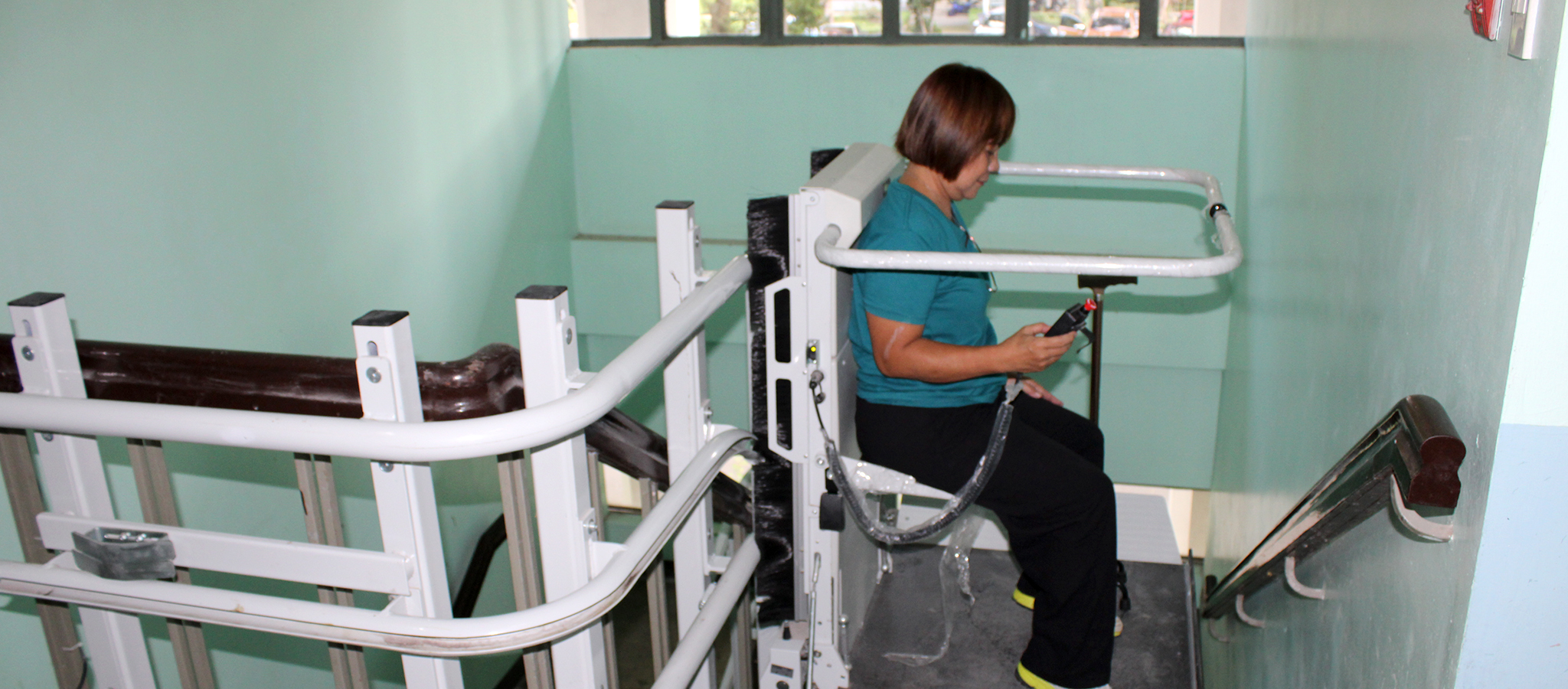 CDC lifts barriers to inclusivity of spaces
by Mary Antonie Joan Alberto and Raven Victoria Lucero
As part of its commitment to making its spaces more inclusive for persons with disabilities (PWD), the College of Development Communication (CDC) installed a platform stairlift—the first of its kind throughout the UP System.
According to CDC Dean Maria Stella Tirol, the platform stairlift project has been in the works since 2016.
"This was proposed during the term of former CDC Dean Maria Theresa Velasco, and because of the long process for bidding and procurement, it was only this year, 2023, when finally the electronic chairlift [platform stairlift] was installed," Dean Tirol said.
Legal basis
As provided for by Section 25, Chapter VI of RA 7277 or the Magna Carta for Disabled Persons, the State must take steps to establish barrier-free spaces. Moreover, Batas Pambansa Bilang 344, or the Accessibility Law, lists educational institutions among public areas that should be accessible to PWDs.
"This provided the rationale why CDC decided to install, hindi lang 'yung [platform stairlift], mayroon din tayong ramp doon sa harapan, (not only for the platform stairlift but also for the ramp at the entrance of the building)" Dean Tirol said.
The recently installed equipment at the CDC building's Department of Science Communication (DSC) wing is the Stratos Platform Stairlift, manufactured and imported from Austria.
A document provided by Architect William Jeffrey Rañola of the University Planning and Management Office (UPMO) shows that the platform stairlift is the most suitable for curved stairs such as those found in the CDC building.
The Stratos has a maximum load capacity of about 300 kg and can carry mobility devices such as wheelchairs. It is powered by batteries that recharge automatically at each landing area. Additionally, the platform stairlift comes with a remote that controls its movement and an emergency stop and alarm button. Two wireless controls are also mounted on the walls of each landing station to send the lift up or to the ground level.
The lift is not only useful for PWDs but also for senior citizens.
Promoting inclusivity
Juvy Gopela, a PWD employee who works as a University Researcher at the Department of Development Broadcasting and Telecommunication (DDBT), was the first to use the platform stairlift.
"Noong una, syempre, ay parang bago diba? Noong una nakakatakot 'no, tapos makita mo naman dahan-dahan lang. Okay naman 'yung experience ko, (At first, I felt fearful since it is new to me, but I found the experience to be just okay.)" Gopela said, recalling her initial impression.
She said that the only challenge she has encountered is riding the lift, "Yung pagsakay, syempre dahan-dahan. Minsan kasi kailangan ibaba mo talaga 'yung sakayan kasi minsan pagmamadali ko, hindi pa pala siya totally nakalapat. (The ride should be slow. I experienced one time in my haste that you need to make sure that the lift has really been lowered.)"
She believes that CDC made significant steps in promoting inclusivity through the platform stairlift and sees it as a blessing in disguise.
Architect Rañola also shared the same sentiments when asked how he perceived the overall project. "Kahit saan ka pumunta, pwede mong ipagmayabang na ang pinaka-unang platform stairlift ay nasa CDC, (We have the bragging rights that the very first stairlift [in the UP System] is at CDC.)" he said.
He said that it promotes accessibility and a conducive learning environment on the campus. PWDs will be given equal chances to pursue their academics through facilities that do not restrict them from reaching their full potential.
Development in hindsight
Building inclusive learning spaces means meeting the needs of every person involved in the learning process: the students, staff, and administration. Providing equal access to marginalized groups such as PWDs is crucial for inclusivity.
UPMO estimates more than ten buildings in the university lack PWD ramps. Most of these are older buildings with rooms used for General Education courses.
Architect Rañola said that designs for ramps in some buildings had been elevated to the end-users and the administration, and await funding approval.
Platform stairlifts have also been recommended in other two-storey buildings on the campus. UPMO is also working to install elevators in buildings that qualify to have one.
Rañola said that PWD inclusivity should be given the attention that it demands and noted that the UPMO had taken the necessary measures to address this concern.
The CDC recognized the need to provide additional programs other than infrastructural improvements to assist the PWD community.
However, educational institutions still have a long road ahead to be fully inclusive.
Hurdling barriers
Putting up PWD-inclusive learning spaces requires effective planning, design, and implementation, and funding continues to be a challenge, especially where lifts and elevators are needed.
"It's a matter of implementation, money, and priorities," Rañola said.
In August 2022, the National Expenditure Program (NEP) of the Department of Budget and Management (DBM) proposed a PhP21 billion budget for UP for 2023, less than half of the proposed PhP44 billion. The budget cuts significantly affected infrastructure projects.
There still needs to be baseline data on the PWD community on campus to provide the basis for creating inclusive spaces.
The CDC administration tries to respond to this need: "We must start from the baseline. Specifically for the college, we need to survey not only the PWDs but the overall criteria for inclusivity in learning for the students. Siguro ayun ang ipa-prioritize namin, (That is what we should prioritize)." Dean Tirol said.
Development cannot be spoken of if there are sectors that are still marginalized. No community is too small for their struggles to fall through the cracks.