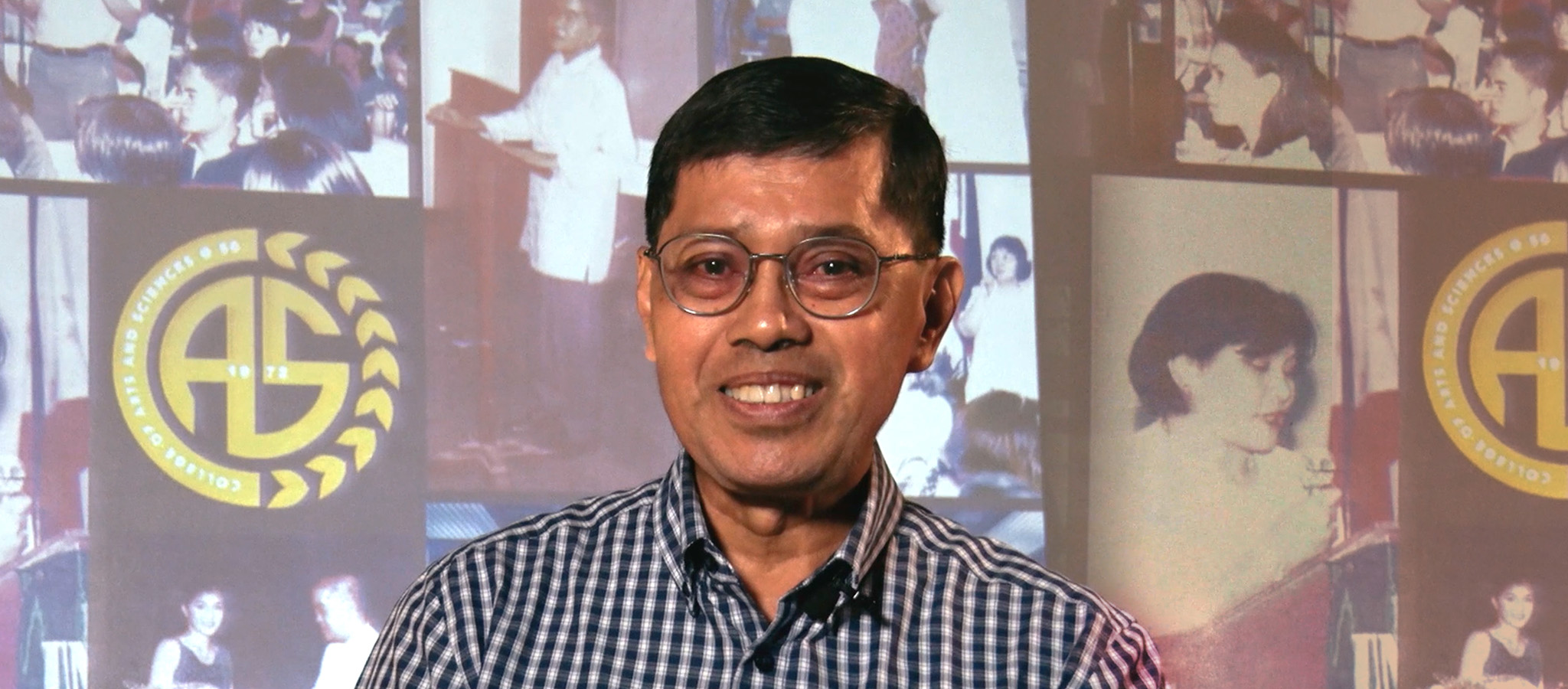 CAS Dean's Legacy Series: Adapting to changes by strengthening connections and solidarity
by Marie Joy Lopez-Relente & Kristine Dale R. Alcaide
Dr. Felino Lansigan was at the helm of the College of Arts and Sciences (CAS) from 2014 to 2020, when changes took place in the country and around the globe that impacted the Philippine education system.
In 2014, the K to 12 program began to be implemented in the country, and in 2020, the COVID-19 pandemic happened. Both caused significant shifts and disruptions in education and delivery of instruction in the country and worldwide, respectively.
These two events bookended the term of Dr. Felino Lansigan as dean of CAS, and how CAS emerged more vital than ever amid the challenges brought about by change and disruption is a testament to his leadership.
Dr. Lansigan's strong leadership skills and fatherly approach in dealing with his constituents paved the way for a good and harmonious working relationship among the different constituents of the college and for building connections inside and outside the university.
The last episode of the CAS Dean's Legacy Series entitled "UGNAY: Ang katibayan ng pamumuno ni Dean Felino 'Ino' P. Lansigan" featured him as the 8th dean of CAS. He served for two consecutive terms, from 2014 to 2017 (1st term) and 2018 to 2020 (2nd term).
Under his term, the college experienced several advancements in instruction, research, extension, internationalization, infrastructure, and faculty, staff, and student development.
Dean Ino also addressed new challenges in the educational system, such as the K to 12 transition, mental health issues, transitioning to the new normal amid COVID-19, and conflict management.
Despite all the hardships, Dean Ino remained calm and determined that all of these could be overcome. Leading the most prominent college in the university was a big challenge for him. Still, with the support of his administrative staff and the CAS Executive Committee, as well as the active participation of the CAS faculty members and students, everything turned out well for the college.
Dean Ino believes that participatory decision-making, good management and decisive resolution of conflict, and collegial leadership and management by example, are vital for effective leadership.
With this kind of leadership, he left the college stronger and working together towards a common goal. The harmonious relationship among the college constituents paved the way for a more unified CAS.
At the end of the tribute video, Dean Ino wholeheartedly thanked the faculty, research and admin staff, and the students for their unwavering support for him. Moreover, he mentioned that serving the college for more than 43 years was a great honor.
Dean Ino, now a professor emeritus, is part of the Institute of Statistics graduate faculty, where he continues mentoring students. He serves as an adviser and consultant for various institutions and continues to write papers published in reputable scientific journals and other publications.