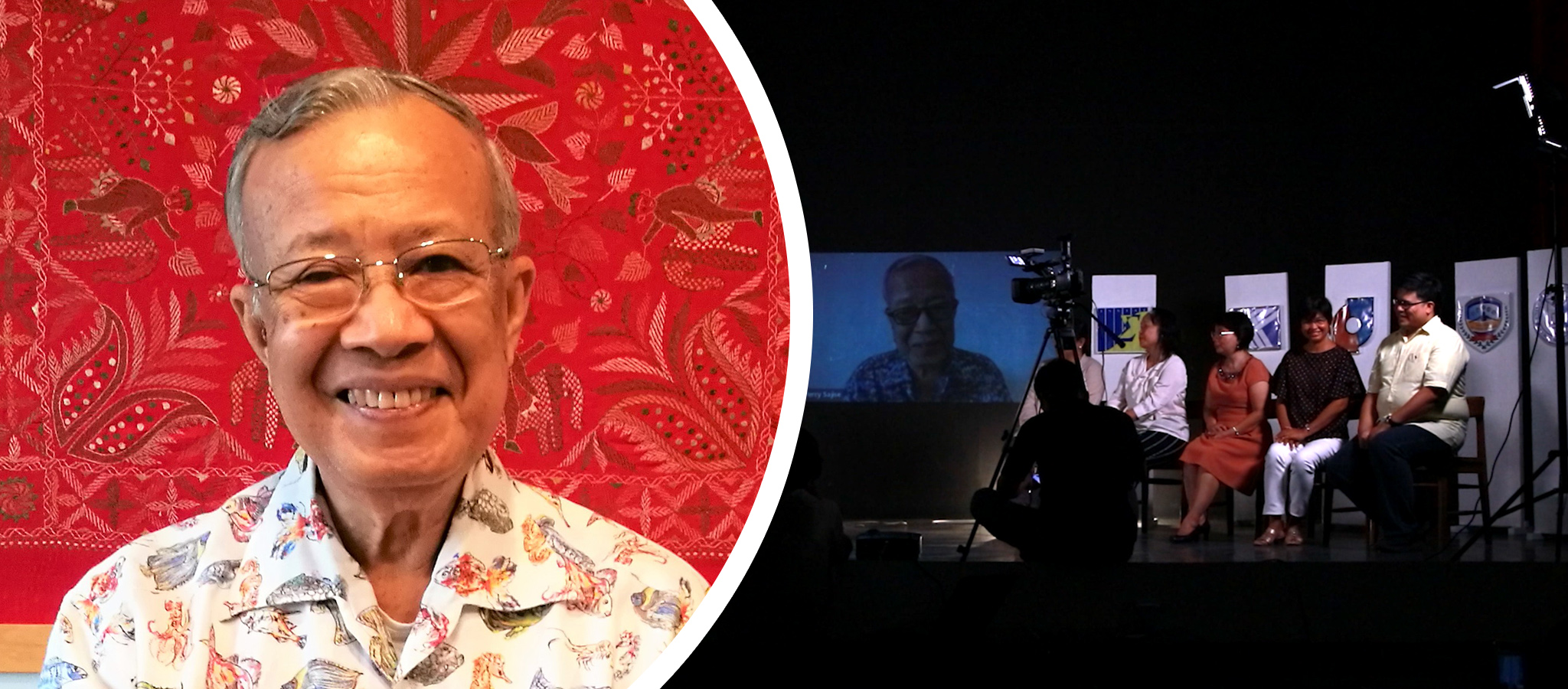 CAS continues dean's legacy series for anniv celebration
by Charina Grace B. Banaay
To celebrate its 50th founding anniversary, the College of Arts and Sciences (CAS) featured Dr. Percy E. Sajise in the second episode of the CAS Dean's Legacy Symposium Series. Dr. Sajise is the second dean of CAS.
The online tribute program was entitled "Bisyonaryo: A tribute to the legacy of Dean Percy E. Sajise" and was held on May 23 via live streaming. It featured an interview with Dr. Sajise and personal messages from his colleagues, students, friends, and family.
The video highlighted how Dr. Sajise sought to promote the inherent strength of CAS in the interdisciplinary infusion of different sciences as reflected in teaching, research, and public service.
It discussed how three institutes, namely the Institute of Biological Sciences, the Institute of Chemistry, and the Institute of Mathematical Sciences and Physics, were formed from the existing departments of CAS through his leadership. Additional funds obtained from establishing these institutes led to an interdisciplinary research initiative in Laguna Bay. Projects for human resource development and scholarships for students were likewise initiated.
Dr. Sajise's term encountered two major challenges: personnel conflict management and faculty-student and student-student conflict management. Dr. Sajise also recounted the state of activism during his time.
From these experiences, his advice for administrators and faculty members is to open communication lines to all sectors of the College for meetings, feedback, and problem resolution. As for faculty members, he advised them to excel in their strengths.
"Be the best, whatever you are in your respective disciplines, and show it to the world in terms of your research, teaching, innovation, and public service," he said.
In his interview, Dr. Sajise shared some unforgettable memories during his term. His stories showed his sincerity, kindness, fairness, openness, ability to manage conflict, and his generally positive view on things. He has lived following the philosophy, "Try to live a life that matters," and it clearly shows. The interview ended with Dr. Sajise reciting a poem by leading ethicist Michael Josephson entitled "What Will Matter."
CAS followed the interview with fast-talk games and trivia to engage the online audience.
Personal messages were then given by previous university officials and notable researchers from UPLB, namely, Dr. Francisco P. Fellizar, Jr., Dr. Virginia C. Cuevas, Dr. Damasa M. Macandog, Dr. Felino P. Lansigan, Dr. Rex Victor O. Cruz, Dr. Arcelia A. Alejar, and Dr. Ida F. Dalmacio, and his wife Susan Sajise.
Finally, Dr. Sajise gave a message for CAS on its 50th anniversary.
"We've lasted 50 years… let's continue and conserve and use the strength that we have gained from these 50 years and move on to develop new strengths in areas that will be needed by our country, especially with respect to sustainable development," he said.
"We already have gains from the last 50 years. Let's keep on improving on those gains and try to start new ones which will become important in the future for attaining sustainable development within our community, our country, and the world," he continued.
CAS previously featured its first dean, Dr. Edelwina C. Legaspi, in the series.
The tribute video may be viewed from the UPLB CAS at 50 Facebook page.