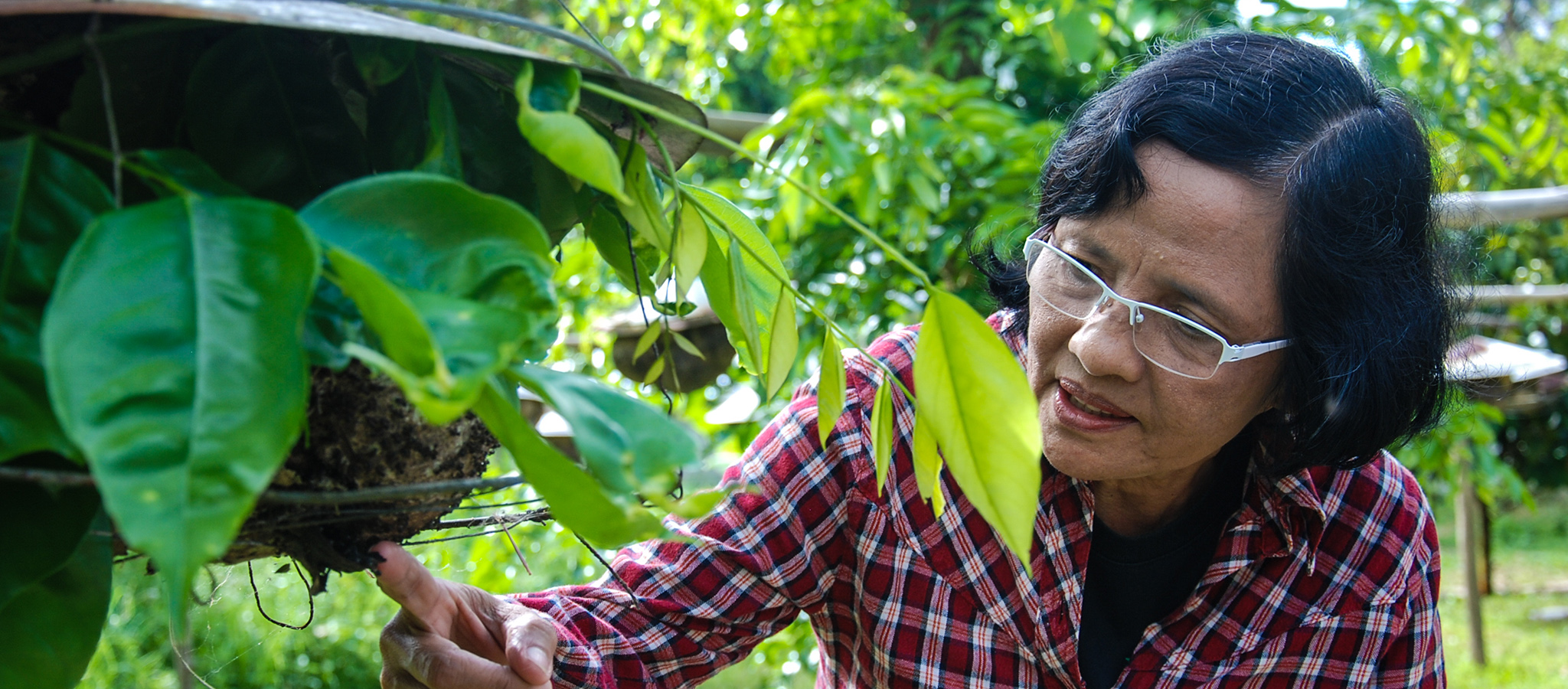 Yes, bees do it! They keep entrepreneurship abuzz!
The UPLB Bee Program's beekeeping training course is creating quite a buzz, making farmers, researchers, students, teachers, hobbyists, and practicing beekeepers swarm the University in order to learn more about it.
A testament to this is the steadily growing demand for the training course since it was first offered in 1989, at times even exceeding the available slots for a given year. To date, the Bee Program has trained more than a thousand individuals to become
"bee entrepreneurs."
On certain occasions, UPLB's beekeeping training course is conducted outside the university.
"On top of our regular training course in April, May, and October, we have on-site trainings for farmers and indigenous peoples," said Dr. Cleofas R. Cervancia, professor emeritus at the Institute of Biological Sciences and head of the Bee Program until her retirement in 2012.
Dr. Cervancia, an award-winning scientist, is one of the forces who brought the UPLB Bee Program to wider public consciousness. She was at its helm when it was named as the National Center of Excellence for Bee Research and Development. Despite her retirement, she remains committed to beekeeping training and implementing interdisciplinary researches on bees.
Indeed, beekeeping is one entrepreneurial possibility that has caught on, a good thing because bees have an important role in ecology as pollinators.
Beekeeping for the environment
"The most rewarding training for me is on pollinator restoration," said Dr. Cervancia, who led the beekeeping training for ecosystem restoration in communities that were hit by super typhoon Yolanda (Haiyan) in 2013.
In partnership with students from New Zealand's University of Canterbury and the civil society organization Guiuan Development Foundation, Inc., the Bee Program helped the villages of Tarong in Carles, Iloilo and Maliwaliw in Salcedo, Eastern Samar recover from the effects of the super typhoon.
According to Dr. Cervancia, these communities lost the bees after Haiyan struck their village. Without bees serving as pollinators, fruit trees fail to bear flowers that would eventually become fruits.
To remedy the situation, they brought colonies of local bees to these communities and taught the people, primarily the farmers, to take care of them. They also included in the training module livelihood activities to further help the residents recover from the aftermath of Yolanda.
The products that could be generated from beekeeping are honey, pollen, cosmetics, and wine, among others. Meanwhile, the local bee species that Dr. Cervancia and her team are promoting are the stingless bees (Tetragonula biroi), giant honey bees (Apis dorsata and Apis breviligula), eastern honey bee (Apis cerana), and Palawan's Apis andreniformis.
A year after conducting the training, expanding the bee colonies, harvesting and monitoring, the team was delighted to see the results in these communities. "We were very happy when we returned; in a year, the colonies have expanded, the bees are strong. Finally, these places have got pollinators. The bees have spread in the ecosystem," Dr. Cervancia enthused. "And now, their mango, avocado, and coconut trees have borne fruits because of the restoration of the pollinators."
Beekeeping for livelihood
Dr. Cervancia added that their trainees in Tarong and Maliwaliw villages extract honey and bee propolis out of their bee colonies, which give them additional income. This shows that the economic value of bees remains high. In fact, beekeeping has become a much sought-after livelihood option among entrepreneurs. Participants in an intensive beekeeping course in UPLB attest to this.
Jeffrey Bermal, who lives in Lobo, Batangas, plans to include beekeeping in the roster of their family enterprises, which include wedding photography services, computer shop, and
printing business.
Just a few months after finishing the training course at UPLB, Bermal started to take care of a few stingless bees in his backyard. He expects his beekeeping business to grow.
Teresa Gerena, an international development worker from Quezon City, said that she has long been interested in beekeeping. A training on urban beekeeping was offered back in London where I lived; however, I didn't have the time back then, so when I saw it being offered at UPLB, I grabbed it!" she said.
One successful bee entrepreneur who was trained by the UPLB Bee Program is Luz Zarsuela Gamba. In fact, her success story landed her on the cover of the June 2016 issue of the Bees for Development Journal, a quarterly publication about bees in the United Kingdom that is distributed in more than 130 countries.
In the article in the said publication, Gamba recognized Dr. Cervancia for encouraging her to work on stingless bees. Today, she has 2,400 bee colonies in Sorsogon, from which she harvests honey, propolis, and pollen.
Almost three decades after the first beekeeping training course, the training schedule of the Bee Program remains full, according to Dr. Cervancia.
She calls her active involvement in each one of them and in bee research and development as a "call of duty." She hopes that with bees' contribution to ecology and economy, the beekeeping training course would be able to reach out to more communities in the future.
Photo from the UPLB Bee Program