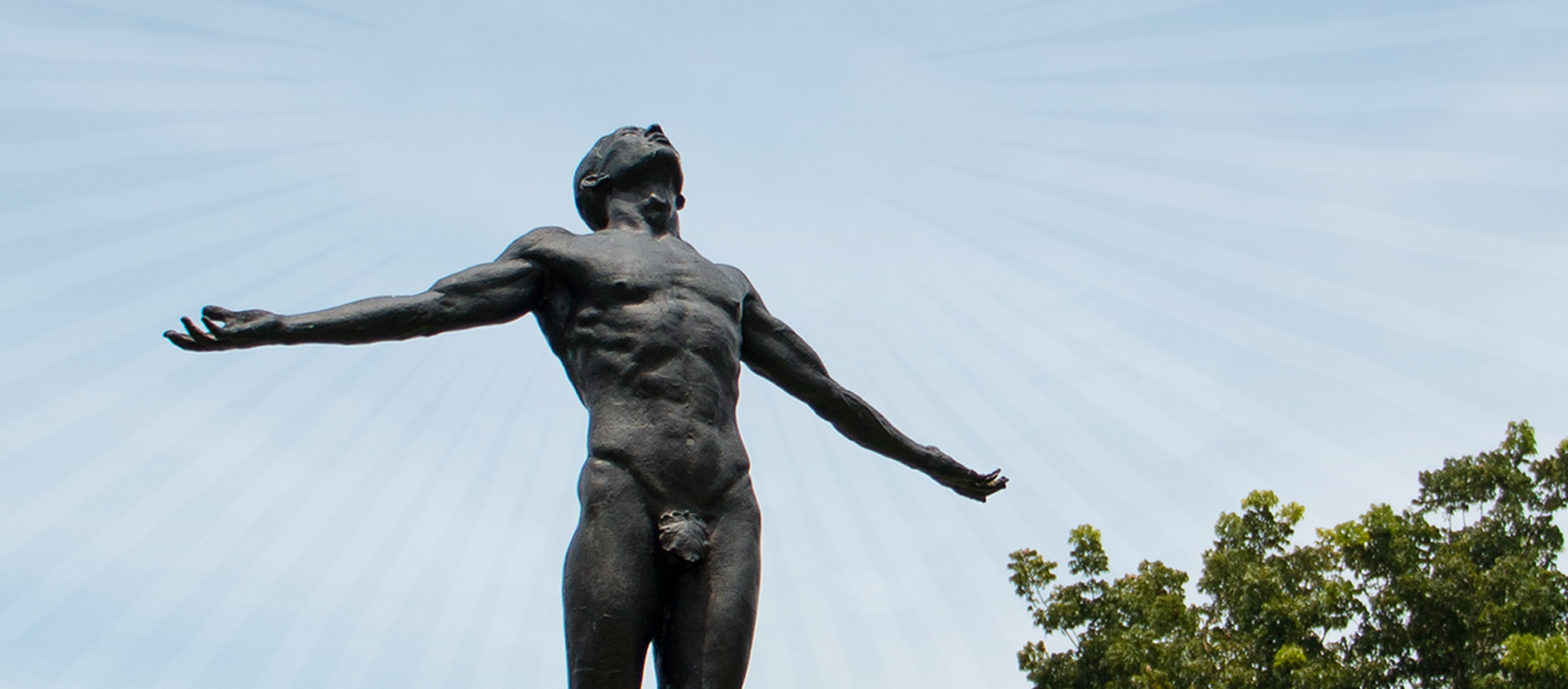 Public Service UP's oblation
The UP Oblation—a man with arms outstretched, head tilted to the sky, eyes closed, and chest slightly thrust forward, symbolizes public service, a selfless offering of oneself to the country.
This "offering" is provided for in the New UP Charter of 2008, which mandates UP to "lead as a public service university by providing various forms of community, public and volunteer service, as well as scholarly and technical assistance to the government, the private sector, and civil society while maintaining its standards of excellence."
Public Service in Instruction
"Instruction, the primary function of higher education institutions like UPLB, is perhaps our most significant public service contribution," Chancellor Fernando C. Sanchez, Jr. said at the 1st Colleges and Universities Public Service Conference (CUPSCon1) held at the UP Open University (UPOU) in 2015.
By offering world-class education, UPLB molds students to become future nation builders. Such education must be imbued with the culture of public service.
Pahinungod accomplishes this through values and character development of the students who are deployed in the programs and projects conducted in underserved communities in the country.
No less than Dr. Emil Q. Javier, former UP President, believes that public service molds the quality of students, for which reason he led the creation of the Ugnayan ng Pahinungod in 1994. The Pahinungod was primarily intended to be an academic program.
The University hones the students in their respective fields and trains them to apply their knowledge and skills on the ground. For example, agriculture students interact with farmers and experience farming, while forestry students interact with forest communities and partake in forest resources conservation activities.
Development communication students produce information materials to educate, inform and mobilize people on relevant concerns. Nutrition students reach out to communities to promote proper human nutrition and health care while veterinary medicine students treat animal diseases during veterinary medical mission.
Applying theories and techniques that they learn from the University in the field not only tests their knowledge and capabilities. It provides them with experience that brings them to "ground zero," teaches them what public service really means.
Graduates adapt easily to the workplace because they have learned to deal with people from different backgrounds.
Public Service in Research, Development, and Extension
Research and extension (R and E) are equally important functions of the University. In the 1950s, Dr. Dioscoro L. Umali, then UP College of Agriculture (UPCA) dean, called on the faculty "to descend from their ivory towers" and apply their knowledge to solve actual agricultural problems, as well as to use the countryside as a learning laboratory. Because of Dr. Umali's challenge, the UPCA created the Office of the Director for Extension to monitor its training and other extension activities.
UPLB's extension programs and services cover various fields such as agriculture, environment and biodiversity, human health and welfare, and livelihood.
Many programs of the University remain focused on the agriculture sector. Perhaps one of the most prominent among these is the National Corn-based Farmer-Scientists Research, Development, and Extension Training Program (FSTP), which Dr. Romulo G. Davide, Professor Emeritus and Ramon Magsaysay Awardee, introduced to his hometown Argao, Cebu in 1994 and caused it to diffuse towards various rural areas in the country. In 2009, FSTP was implemented as a national program of the Department of Agriculture (DA).
UPLB's extension programs have also equipped both individuals and groups with technical information and entrepreneurial mindsets. One best example is the UPLB Bee Program, which has trained bee farmers in various skills, enabling them to improve their income. The Institute of Cooperatives and Bio-Enterprise Development, formerly known as the Agricultural Credit and Cooperatives Institute, continuously capacitates and empowers cooperatives across the country.
Public Service in Technology Promotion and Outreach
UPLB, through the Office of the Vice Chancellor for Research and Extension (OVCRE), participates in annual exhibits that showcase UPLB technologies. UPLB's summer short courses and year-round training programs are well known all over the country. All of these activities aim to deliver the University's knowledge products to their intended users and beneficiaries.
Mandated as the UPLB unit in charge of coordinating the R and E programs of UPLB, OVCRE administers the development and implementation of these programs, initiates techniques to increase publications, and assists in generating resources as well as building linkages with other institutions.
In 2015, the OVCRE conducted a public service forum to define and create the framework of UPLB's extension and public service mandate. Experts guided the participants and shared their views and knowledge on UPLB's brand of public service. UPLB's contributions to public service were discussed, as well as its new modalities and programs. Participants were also reminded that UPLB also caters to public service in a broader scope to include areas such as culture and the arts.
During the forum, participants defined Public Service as "all activities of the University and its units, including but not limited to capacity building, technical assistance and service, and provision or sharing of knowledge and technologies in response to the needs of partners, stakeholders, and society in general, imbued with the values and spirit of professionalism, honor, integrity and excellence towards the goal of inclusive and sustainable development."
Aside from the first Public Service Forum, OVCRE also held ConExtS – Conference for Extension Services, in 2014 and 2015. ConExtS served as a venue for UPLB units to present their extension programs.
Public service through major RDE centers
In its 36 years of existence, BIOTECH has produced technologies such as biofertilizers, diagnostic kits, vaccines, antibiotics, biopesticides, food and feed enzymes, specialty soaps and body scrubs, and plant materials. On the other hand, CTTE initiates programs geared towards the protection, promotion, and disposition of UPLB's technologies through licensing and technology business incubation. The Center has been instrumental in obtaining registration agreements with the Philippine Economic Zone Authority leading to the creation of the UPLB Agro-industrial and Information Technology Parks.
Meanwhile, MNH is mandated to be a center of documentation and a repository of biological specimens for scientific reference, a center of research, a center of information on basic biology, a facility for training future naturalists, and a center of education on preserving our national heritage. Office for Initiatives in Culture and the Arts, on the other hand, aims to make UPLB a cultural center. It serves as the outlet for UPLB staff and students to channel their creativity.
The Ugnayan ng Pahinungod is the flagship volunteer service program of UPLB and serves as the service learning arm of the University. Pahinungod's efforts include reading enhancement and appreciation, immersion, and youth and women development programs. With regard to concerns on gender issues, UPLB has the Gender Center, a university-wide unit that acts on the commitment of UPLB to integrate gender perspective in academic, research, and extension programs.
Translating research into knowledge and action is not an easy feat; but as a University that has public service at its core, UPLB continues to develop technologies and innovations that meet the needs of stakeholders.
The past 109 years have seen UPLB at the forefront of public service. UPLB has encountered many obstacles, but these have only made its purpose clearer—to mirror the symbolism that the Oblation stands for: selfless offering of oneself to the country.
Photo by Christopher V. Labe