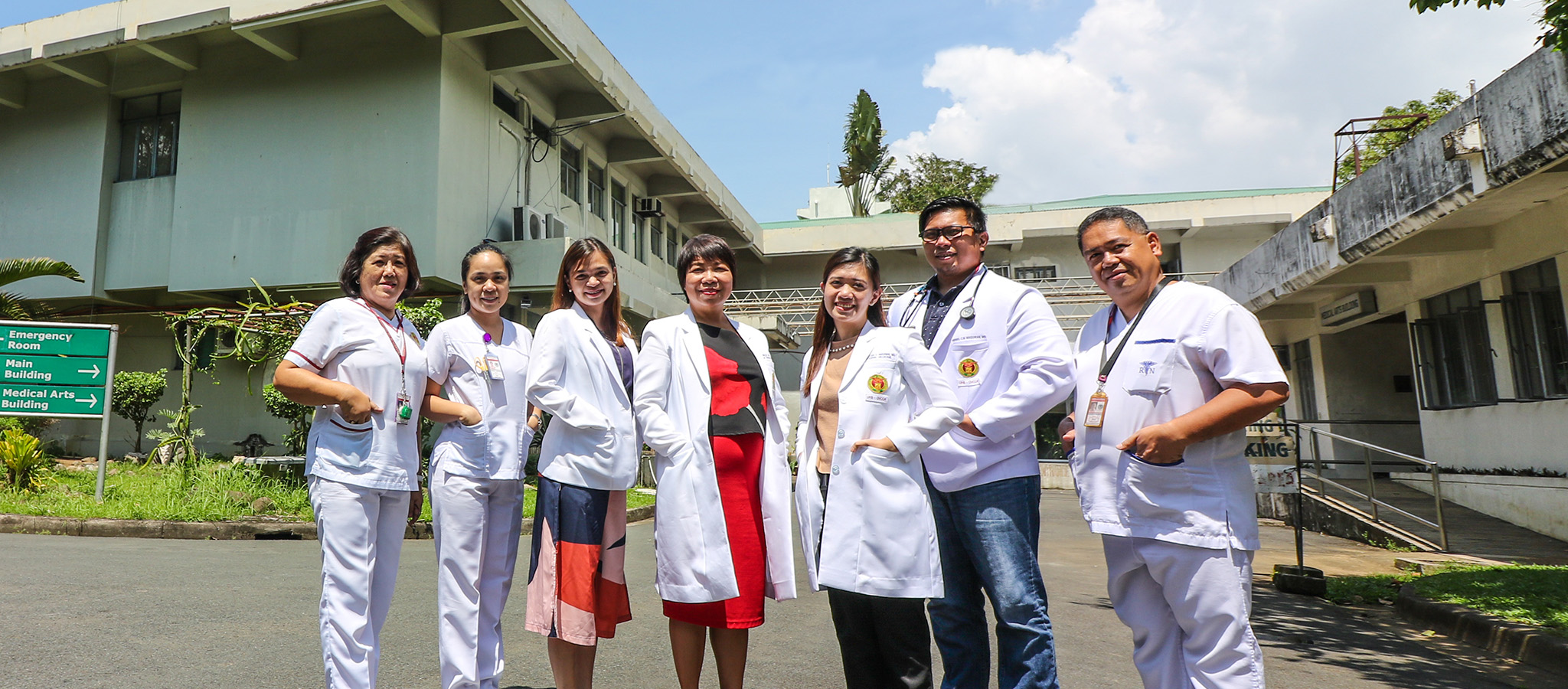 From infirmary to secondary: University Health Service as a Public Service Hospital
by Miguel Victor T. Durian
Sakay ka ng jeep papunta ng Forestry, tapos sabihin mo sa driver, 'Infirmary.' (Take a jeep going to Forestry, then tell the driver, "Infirmary.")
Infirmary. The journey of incoming students at UPLB actually starts in this building. It is the first service unit that incoming freshmen get initiated to when they enroll in UPLB.
But the 'Infirmary' has ceased to be. In its stead is the University Health Service (UHS) that the Department of Health (DOH) proclaimed as a secondary general hospital in 1995. In 2016, it was awarded as the 2015 Best Performing Hospital in Laguna by the local government. The UHS topped in 14 of 18 indicators and emerged as the overall best performing hospital among six hospitals that were assessed.
From Primary to Secondary Hospital
According to Dr. Marilyn M. Palma-Reaño, past director of UHS, as a secondary hospital, the UHS has more modern facilities such as operating rooms for surgeries, a delivery room for normal and caesarian section deliveries, a neonatal intensive care unit (OR-DR-NICU Complex), a newborn screening unit, a dental clinic, laboratory service unit, X-Ray and ultrasound service unit and electrocardiography (ECG), and endoscopy, among others.
UHS also has a full complement of dedicated, competent post-residency-trained medical officers (MOs). They are complemented by a pool of medical specialists from other hospitals in Los Baños serving as consultants on various specializations.
This means that the UHS is capable of serving the Los Baños and neighboring communities in the CALABARZON region, in addition to UPLB students and members of the faculty and staff.
On top of its usual hospital functions, UHS also has specialized programs, which constitute an 'extra mile' for the service that it provides at a
cheaper rate.
The said programs greatly contribute to one of the thrusts of the current administration, which is to create an environment conducive for creativity and innovation for UPLB constituents, through the Office of the Vice Chancellor for Community Affairs (OVCCA), the mother unit of UHS.
Specialized programs
These specialized programs implemented by the UHS are the annual medical examination (AME), Diabetes Education and Nutrition Clinic, Mass Immunization, and the Student Health and Wellness Clinic.
The UHS administers the AME for UPLB faculty and staff members to undergo diagnostic tests to establish the state of their health and fitness to continue service.
Currently manned by Dr. Randolph Trinidad, the Diabetes Education & Nutrition Clinic offers wellness consultations, diabetes counseling, diet counseling, insulin therapy, and layman lectures for patients.
On the other hand, every year, in April and May, about 250 boys avail themselves of the Operation Tuli service of UHS, which is spearheaded by its Nursing Service Department.
Nurse Irene G. Tibor, a member of the Operation Tuli team of UHS, was recognized with the Natatanging Kawani ng OVCCA award during the 18th anniversary of the office in 2015 because she renders circumcision service at her barangay in Dolores, Quezon.
UHS holds a mass vaccination drive every year, usually on the months of June and July, when flu is very prevalent.
"It is a primary prevention activity that aims to enhance the resistance and immune system of UPLB constituents," Dr. Reaño said.
About 400 individuals avail themselves of the service every year.
Student Health Welfare Clinic
The newest program of the UHS, the Student Health and Welfare Clinic, is manned by in-house psychiatrist, Dr. Alexandra Jean C. Palis, who is trained in psychopharmacotherapy and psychodynamic psychotherapy. Guidance counsellors of the Office of Student Affairs (OSA) also assist in implementing the program.
The program aims to improve the psychological and socio-emotional health of UPLB students, especially those who are at risk of self-injury. Dr. Reaño, the proponent of the program, said that there had been cases of students being brought into the UHS because of self-injury and even suicide attempts, mostly because of familial, financial or academic reasons.
Dr. Palis gives them psychological counsel, administers psychological tests, prescribes medications and gives them referrals to a tertiary facility, if necessary.
"Early detection of symptoms is the key to determine the support these students need and the definitive treatment to be done by professional psychologists or psychiatrists," Dr. Reaño said.
UHS offers the service for free only to registered UPLB students.
The Future of UHS
The UHS is currently undertaking a 40 million-peso infrastructure development, to expand the hospital from its 30-bed to a 40-bed capacity secondary health facility.
More private and semi-private rooms will be constructed, as well as a new Emergency Room, among other improvements.
Dr. Serlie B. Jamias, vice chancellor for community affairs, said that modernizing the hospital and further professionalizing its staff and improving its services can help provide that enabling environment to achieve Chancellor Fernando C. Sanchez, Jr.'s vision for a globally competitive graduate and research university.
Photo by Vandolph R. Maningas