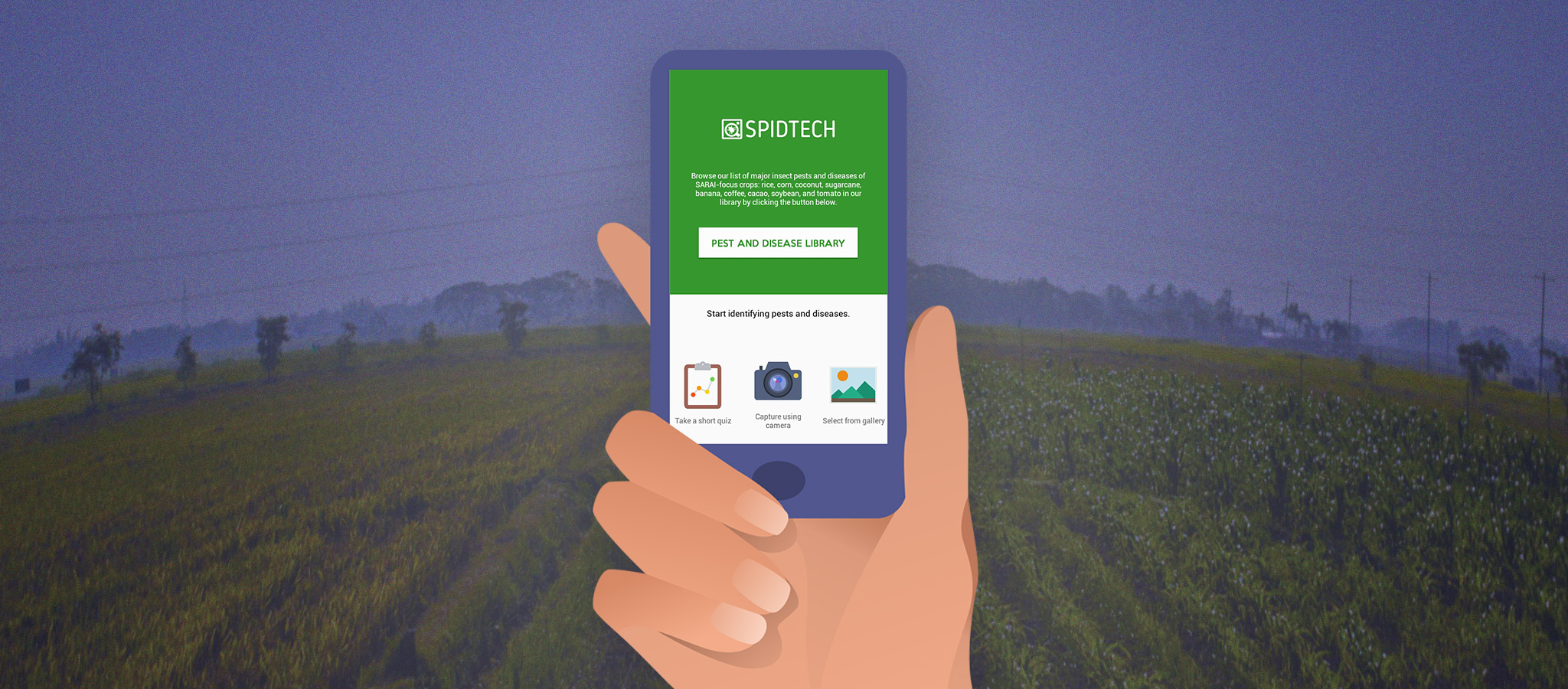 Mobile apps for smart agriculture
A popular folk song tells us that farming is no joke.
From planting to marketing, the burden is indeed heavy for the Filipino farmer. But what if the time comes when farming becomes a little easier with the help of information technology, say smart phones?
Impossible?
The UPLB-led Project SARAI, or Smarter Approaches to Reinvigorate Agriculture as an Industry in the Philippines shows it is possible. Its crop experts and IT specialists have joined forces to develop mobile applications or "apps" that would give crop advisories to farmers.
These apps that can be downloaded to one's smart phones for free are only a few among the IT-based crop monitoring and forecasting tools that the program has been working on for the past seven years.
"Project SARAI envisions Filipino farmers to have the right information at the right time – when best to plant, when to harvest, what to plant, how to best fertilize, how to manage pests effectively and efficiently, and how to optimize use of irrigation water," said Dr. Ma. Victoria Espaldon, program leader.
Crop advisories from these apps, according to Concepcion Khan, project leader of SARAI's Knowledge Portal and Mobile Applications for Digital Agriculture, could help farmers plan other activities, such as applying for loan and hiring farmhand. Khan is a faculty member at the Institute of Computer Science.
Project SARAI has incorporated agricultural knowledge with open-source software, big data from satellites and automatic weather systems, and other existing technologies. The program operates with funds coming from the Philippine Council for Agriculture, Aquatic and Natural Resources Research and Development of the Department of Science and Technology (DOST-PCAARRD) and counts on a team of more than 100 scientists, researchers, and programmers from 12 state universities and colleges and six government agencies nationwide.
Rain alerts
Rain forecasting need not be a guessing game with SARAI Alerts, an application that provides precipitation data within the day, weather forecast for the next five days, and rainfall outlook for the next five months.
SARAI Alerts has two weather sources: its own automatic weather station installed in 19 agricultural areas all over the country that gives updates every six hours and Open Weather Map's network of weather stations in all municipalities in the country that provides updates every three hours.
According to Jacquelyn Tandang, one of the consultants for this app, SARAI's experts use data from these rain and weather forecasts to come up with advisories for each crop such as the best times to plant and harvest.
These site-and crop-specific advisories reach the mobile phones of farmers/SARAI Alerts users who grow SARAI's nine priority crops: banana, cacao, coconut, coffee, corn, rice, soybean, sugarcane, and tomato.
Tandang said that SARAI Alerts has a "push notifications" option, which means that alerts automatically land on the phone's home screen once connected to the Internet. But she added that constant Internet connection within the day is not a pre-requisite. "Once it is cached, it will update the whole day," she said.
Khan pointed out that caching enables a devise/computer to store data for future use, which makes SARAI apps reliable even with occasional absence of the Internet. "Fast Internet connection is no longer a limitation. We deliver advisories to the devise of their choice anytime, anywhere, whether with Internet or without Internet," she said.
Insect pest and plant disease identifier
Meanwhile, farmers will no longer become clueless and frightened about insect pest and plant diseases through the help of another app called SPIDTECH.
SPIDTECH, or the Smarter Pest Identification Technology can be used to identify, manage, report, and monitor insect pests and plant diseases through its three modules, namely: Pest and Disease Identification Feature, Pest and Disease Library, and Remote Monitoring.
According to Angelo Guiam, SPIDTECH programmer, there are three ways of using the Pest and Disease Identification module of the app, all of which would lead to the diagnosis of the insect pest or plant disease, and the appropriate management strategies.
Guiam said that this module uses machine learning technology, an artificial intelligence that utilizes image recognition to classify insect pest and plant disease.
Integrated to the app's identification feature is a database called Pest and Disease Library, a knowledge bank that contains information about major insect pest and plant disease of rice, corn, coffee, and cacao. The pocket-size mobile encyclopedia contains information from various references collated in consultation with entomologists and plant pathologists of the National Crop Protection Center (NCPC).
NCPC and the Institute of Computer Science (ICS) collaborated in making SPIDTECH, with Guiam, Melvin Ebuenga, SARAI project leader for Insect Pest and Disease Advisory System, Kristine Gamba, and Wilson de Panis as developers of SPIDTECH Version 2.0.
UPLB received a Certificate of Copyright Registration and Deposit for SPIDTECH Version 2.0 from the National Library of the Philippines on May 14, 2019.
Mobile apps similar to SPIDTECH exist, but what makes the latter unique, Guiam said, is its remote monitoring module. Its server logs the results that the users obtained, which allows the team to remotely identify and monitor the occurrence of insect pest and plant diseases in the country.
Such feature of SPIDTECH, noted Dr. Christine Marie Casal, SARAI senior science research specialist, promotes "citizen science" since ordinary people are involved in providing data for the bigger goal of early detection of insect pest and disease in a locality.
Handy coffee tracker
With the Coffee App Harvest Estimator (CAPHE), farmers no longer need to visit their coffee farm often, especially if these are located far from their home base.
With the app, coffee farmers will have a handy tracker that would inform them about appropriate times to visit their farms based on the phenology or life cycle of coffee — from the inflorescence, berry development, to berry ripening.
CAPHE users only need to identify their farm location and coffee species, be it Robusta, Arabica, Excelsa, or Liberica.
By clicking a photo that best represents the current stage of their plant, CAPHE would automatically calendar the critical dates when farmers should visit their farm. They would be advised on expected events and interventions such as the period to manage possible infestation, and ultimately, the time to harvest.
With caching, Khan added that there is no need for constant Internet connection in using CAPHE. This app would already set the remaining milestones of the crop until harvesting, depending on the first time the farmer uses it.
The coffee lifecycle prediction in CAPHE is based on a study led by Project SARAI study leader, Bong Salazar. CAPHE and SARAI Alerts were developed by ICS graduate and undergraduate students under the guidance of Khan. BS Computer Science student Natalie Nicole Soluren was responsible for developing CAPHE.
Access
SARAI Alerts and SPIDTECH can now be downloaded at Google Play Store. SPIDTECH is also available at pythonanywhere.com.
With these apps aimed at making farming easier, many wonder if farmers use them.
The SARAI team admits that not all farmers have access to smart phones, but in the meantime, they see agricultural extension workers as the ones who could bridge this gap. "Extension workers can inform farmers, and can convince [them] later on to subscribe [to these apps]," Khan said. "It is one of the strategies to bring the technology to the farmers."
For Dr. Espaldon, these apps can provide easy access to information not only to farmers and agricultural technicians, but also to other agriculture stakeholders, such as farmer leaders, farm communities, LGUs, and the media. "Information is ready at your fingertips!" she said.
Khan acknowledged that these apps are technologies waiting to be taken by farmers. "It's an opportunity that all farmers should avail for themselves. It is liberating and powerful enough to ensure that they will get optimum yield at the end of the day," she said.
Farming is indeed no joke; at times, circumstances make things even harder for farmers. But with partners who seriously take on the task of reducing the farmers' burden, such as Project SARAI, there is hope for ease in farming as a livelihood, or shall we say, smart agriculture, for the country's food producers.