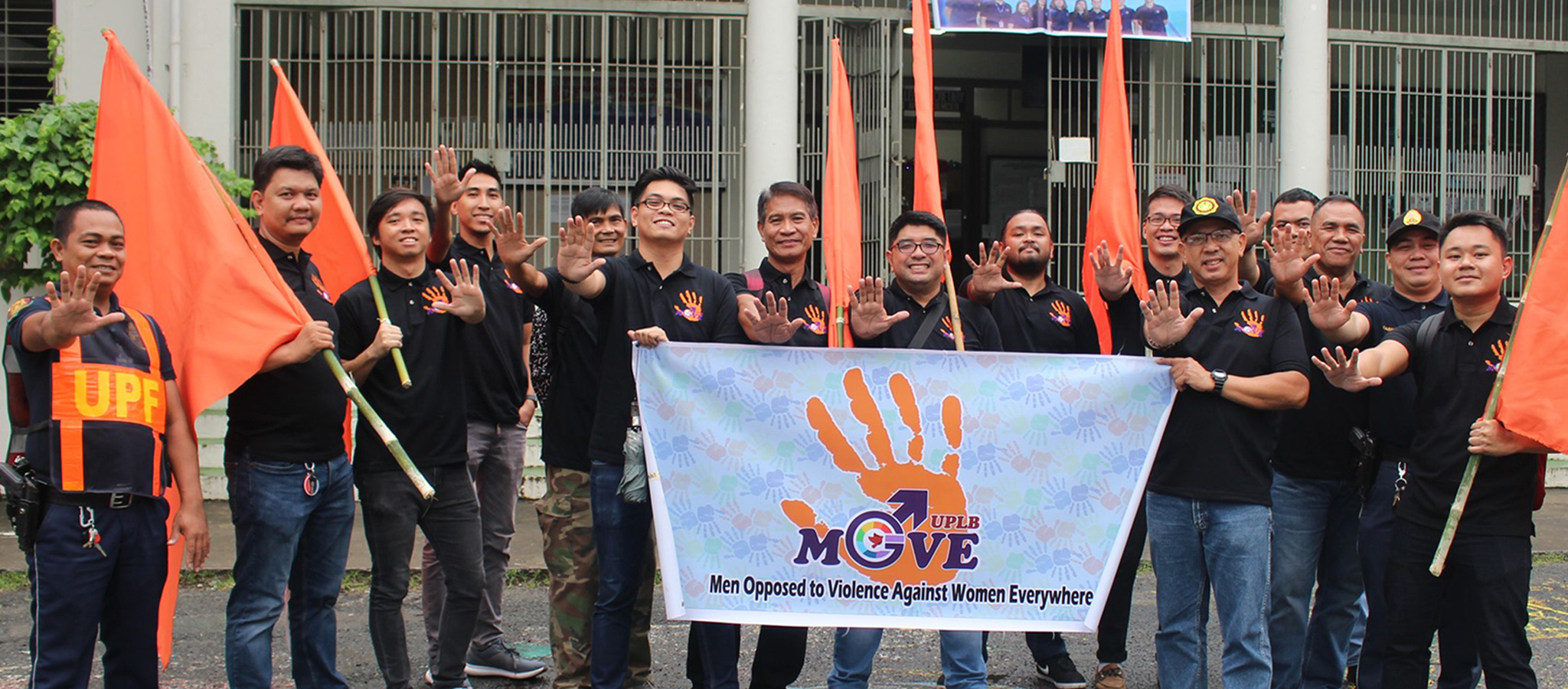 Legendary dancer Martha Graham once said that "dance is the hidden language of the soul." If that is so, imagine the manifold messages that people dancing together for a cause could possibly convey.
And it is through dance that a group of male UPLB employees have been expressing their advocacy. Since 2018, they have danced, likely not as well as Graham, to express a vow to help end violence against women (VAW).
Now numbering 35, these men are collectively called MOVE, or Men Opposed to Violence against women Everywhere. UPLB's MOVE, the only one in the UP System, is a local counterpart of MOVE organizations across the country that the Philippine Commission on Women created in 2006.
The UPLB Gender Center (UPLBGC), the focal point of all gender concerns in the campus, established UPLB MOVE in 2018.
UPLB MOVE's march and solidarity dance to the tune of the song "Break the chain," happens each November 25 or the start of the 18-day nationwide Campaign to End VAW.
By virtue of Republic Act 10398, the day has been declared as the National Consciousness Day for the Elimination of Violence Against Women and Children (VAWC).
According to Miguel Victor Durian, secretary of MOVE and a university research associate at the Office of the Vice Chancellor for Community Affairs, the End VAW solidarity dance is the organization's way of raising awareness about the cause to the UPLB community.
Atty. Eric Paul D. Peralta, director of UPLBGC, said that members of MOVE are expected to serve as champions and advocates of gender and development, gender equality and empowerment, and of ending VAWC.
"MOVE can help the UPLBGC a lot inasmuch as not only the goals of the office, but also the vision, mission and objectives are enhanced by the projects, activities, and programs (PAPs) of the group."
"MOVE also opens a new window as these PAPs are being facilitated, promoted, and championed by male UPLB constituents, breaking traditions and stereotypes about men," Atty. Peralta added.
Despite being a young organization, MOVE has taken initial steps to realize their goals to further advance their cause.
Vladimir Amatorio, president of MOVE and an administrative officer at the Human Resources Development Office, said that MOVE aspires to become a full-fledged program under the UPLBGC. He added that they are also open to assist and collaborate with other UP constituent universities in establishing their own MOVE.
MOVE members have also participated in gatherings that push to end VAW in Cavite, Laguna, Batangas, Rizal, and Quezon. In 2019, they participated in the regional MOVE Summit that convened various MOVE chapters from state universities and colleges and other government agencies.
For Dr. Emilia A. Lastica-Ternura, coordinator of the Office of Anti-Sexual Harassment (OASH), organizing MOVE is a good initiative that shows that men can be advocates to stop VAW.
Dr. Lastica-Ternura said that the members of MOVE can be the primary examples on how people should behave themselves. "Their advocacy should be evident in their dealings with people every day in their jobs and at home," she said.
"The organization is active in pursuing their agenda, not only by convincing the community that this is the right thing to do, but [also because] they educate themselves in gender sensitivity to be able to fully adhere to the principles of their organization," Dr. Lastica-Ternura noted.
"I can see a world where we all live – safe and free from all oppression; no more rape or incest, or abuse; women are not a possession."
These lines from the lyrics of "Break the chain" is the message that UPLB MOVE conveys in the solidarity dance. When men break the chains of tradition, there just might be a future when VAW will finally end.
Photo by Miguel Victor T. Durian