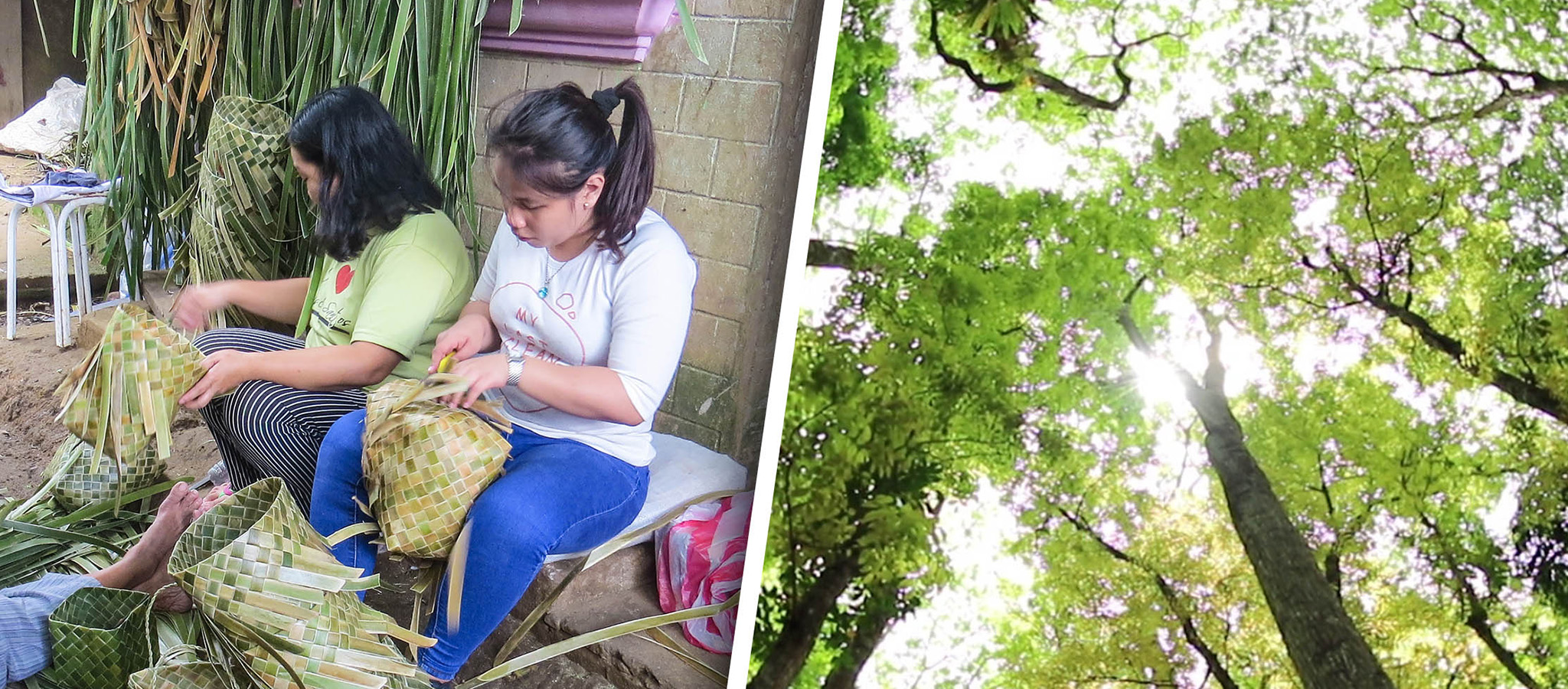 A forest's bounty besides timber
Just by the number, sheer size, and usefulness of timber from trees, it is easy to overlook what else a forest can offer.
For Dr. Ramon Razal, a professor at the College of Forestry and Natural Resources (CFNR), the forest is home to abundant renewable products other than timber, which are collectively called non-timber forest products (NTFPs).
"They include fruits and nuts, vegetables, fish and game, medicinal plants, resins, essences, and a range of barks and fibers such as bamboo, rattans, and a host of other palms and grasses," enumerated Dr. Razal, who is also one of the members of the board of trustees of the NTFP Exchange Programme Asia and former dean of CFNR.
In the Philippines, various types of NTFPs can be found in different provinces. "For instance, Iloilo, Pangasinan, Abra, and Bukidnon are rich in bamboo. Agusan provinces, Palawan, and Mindoro provinces produce a lot of rattan, while Palawan, Davao Oriental, Isabela, Samar, and Quezon are abundant in Almaciga resin," Dr. Razal continued.
Promoting NTFPs can contribute to the attainment of the Sustainable Development Goal (SDG) 15 or "Life on Land" to protect, restore, and promote sustainable use of terrestrial ecosystems, sustainably manage forests, combat desertification, and halt and reverse land degradation and biodiversity loss.
According to the United Nations (UN), investing in forests and forestry represents an investment in people and their livelihoods, especially the rural poor, youth, and women. Around 1.6 billion people – including more than 2,000 indigenous cultures – depend on forests for their livelihood.
Diverse benefits
Unlike agricultural crops, most naturally growing NTFPs like bamboo and rattan do not need thorough cultivation. They can also be gathered using simple, common tools.
NTFPs can be sources of fiber and structural materials, medicine and cosmetics, chemical or extractive products, fruits, nuts, leaves, and animal products. Their abundance makes them reliable sources of livelihood for forest communities.
"They also save the forest from being exploited for the trees. Plus, protecting the forests for NTFPs also helps ensure forest diversity," Dr. Razal explained.
"For the environment, we can use NTFPs such as plant leaves rather than plastic bags for packaging. For our health and wellness, we can consume medicinal plants and fruits from the forests rather than fast foods," he added.
According to him, the use of NTFPs is also closely intertwined with the culture of indigenous people. "Many of the elements of musical instruments, houses, and accessories they use are made of NTFPs. Paying attention to NTFPs helps in protecting indigenous culture that otherwise would be lost if these resources are ignored."
Research from the International Network for Bamboo and Rattan also found that bamboos have the ability to store carbon better than plantation trees, which helps in mitigating climate change.
Collective effort
Dr. Razal and his project team have been working with different sectors to develop and promote NTFPs through marketing, bamboo inventory and mapping, tissue culture, and exploratory studies.
"In one of our projects called 'Foresters as agents of change: developing capacity of forestry graduates in assisting upland communities to commercialize non-timber forest products,' we were able to support 24 BS Forestry students to undergo their practicum in five different communities within CALABARZON. The students planned community-based small-scale enterprise using available NTFPs as raw materials that could be established in the communities identified," said Dr. Razal.
The project also established the FORESTore, a one-stop shop that sells goods and materials made from NTFPs developed by BSF students and their partner communities in Laguna, Cavite, and Quezon.
In another initiative, the NTFPs team combined remote sensing technology and free access maps, while also interviewing communities from Pangasinan, Iloilo, and Bukidnon, to come up with bamboo distribution maps in these provinces.
"Our maps will tell you where the bamboo stands are located in the three provinces. You can use the map to estimate how many bamboos are harvestable, with an accuracy of more than 70%. We were also able to develop a guide that includes a detailed procedure on mapping and inventory of bamboo as well as a bamboo identification guide that inventory teams in different communities can use to recognize the bamboo species growing in the area," explained Dr. Razal.
His team has also ventured into tissue culture for bamboo production. He said that using tissue culture saves on space and produces more planting materials using fewer inputs.
"We collect three species of bamboo: tinik, giant bamboo, and bolo from six different locations in the country, two from each island groups in the Philippines. My part is to characterize the physical and mechanical properties of the bamboo to determine which area(s) in the country are the best places to collect bamboo for micropropagation," Dr. Razal said.
The project is in partnership with the Institute of Crop Science of the College of Agriculture and Food Science and Carolina Bamboo Garden based in Antipolo City.
"Hopefully with more tissue cultured bamboo, we can establish more plantations and supply the demand," he continued.
Lastly, the team is also leading the chemical non-timber forest products program, where they seek to compare Almaciga resins collected from Palawan and other parts of the country.
Almaciga trees grow in almost all mountainous forests in the Philippines, particularly in Quezon, Zambales, Palawan, Cagayan, Abra, Kalinga, Apayao, Nueva Vizcaya, Samar, Zamboanga, and Davao. Its resins are used in manufacturing varnishes, paints, soaps, printing ink, shoe polish, floor wax, and other products.
"The Almaciga resins from Southern Palawan have been widely preferred in the Philippines. Our team would like to find out if they really differ from other Almaciga resins harvested in other parts of the country, since these are purchased at a lower price by traders," Dr. Razal noted.
"Under the program, we would also develop products and technologies on the harvesting of Almaciga resin since the current practices endanger the sustainability of the trees. We would also want to come up with novel products out of Almaciga so that communities can also be entrepreneurs in their own right and have more returns from their efforts," he added.
The program will also tackle oil from indigenous tree species – the seeds of Bitaog and the essential oil from the leaves of Bagras in its second year.
As Dr. Razal and his research team strives to conduct more projects about NTFPs, he stays committed toward making more forest-dependent communities believe that the forest's bounty goes beyond the timber from trees.
Photo by Christopher V. Labe & UPLB NTFPs Project Team